Advertisement
A hearty welcome back to one of our all-time Melbourne favourites, French Saloon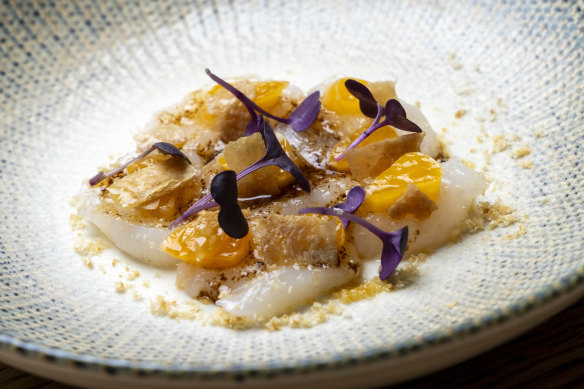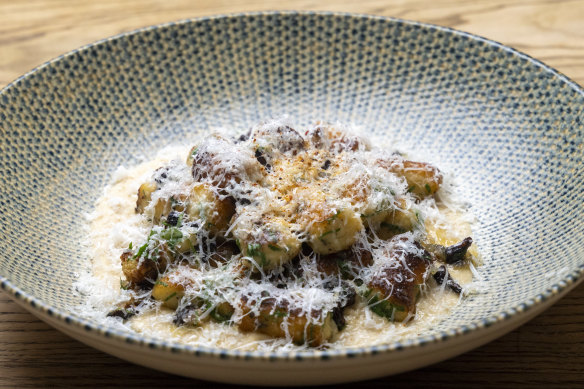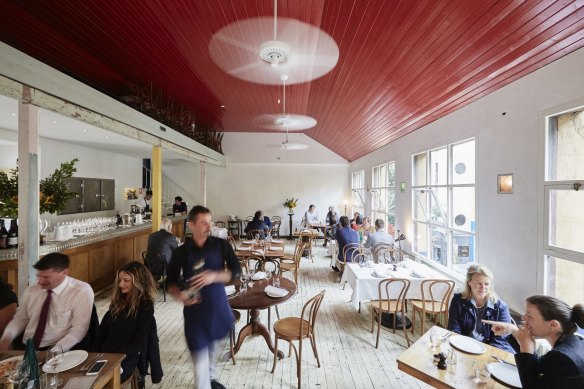 Don't call it a comeback; it's been here for years.
OK, OK, maybe it is fair to call it a comeback. Because while it's true that French Saloon, the Hardware Lane stalwart from Con Christopoulos and chef Ian Curley, has been quietly operating as a function space since 2021, those of us who had no wedding or retirement party to throw have missed the place. There is a long list of people who told me that, before its events-only era, French Saloon was their favourite Melbourne restaurant. (This list includes Good Food's former chief reviewer.) It's easy to see why.
Advertisement
In the first place, it is so very, very Melbourne. Off a bustling laneway, up a wonky staircase, through a vintage wooden and glass doorway, the room feels like an artist's loft turned pared-back brasserie, the huge windows creating a romantic moonlit feel, the red-painted timber ceiling, white-painted floorboards, and zinc and marble bar exuding timeless elegance.
It reminds me of other great rooms around the world that don't try too hard and become iconic as a result: Saint John in London; Peter Luger in New York. (Yes, of course the food helps at these spots, but it does here, too … more on that shortly.)
When the restaurant first opened in 2016, it was met with excitement, if not outright jubilation. I get the feeling it's one of those places that needed to sink into itself, its assurance, its sense of elegant ease.
It is so very, very Melbourne. Off a bustling laneway, up a wonky staircase ... the room feels like an artist's loft turned pared-back brasserie.
Today, that ease is front and centre, not least in the service, which is charming and warm and knowledgeable without the slightest hint of pomp or snobbery. Go ahead and ask for a wine recommendation from the impressive list, stocked with European and Australian bottles – both times I've done so I've discovered something new to love at a price I could handle.
Advertisement
The menu, a collaboration between Curley and head chef Luke Fraser (who also holds that title at sibling venue downstairs, Kirk's Wine Bar), retains its focus on local ingredients and French technique, with mostly stunning results.
A special of sweet, juicy yabby tails ($33) came swimming in a sauce so green, so packed with fresh herby goodness, it tasted like pure photosynthesis.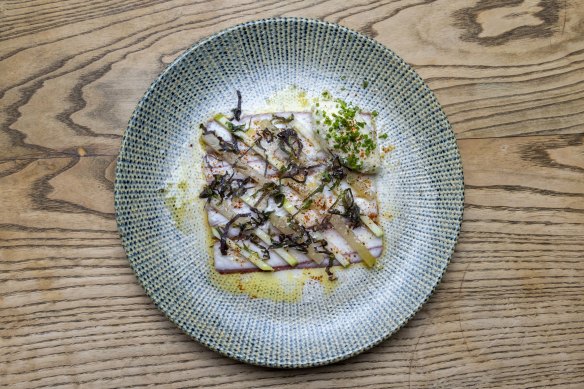 Dish composition is detailed and charming – smoked eel ($28) is arranged precisely on the plate in a square, layered with diagonal strips of crunchy apple and pickled kohlrabi, and a dollop of Chantilly cream imbued with horseradish.
Raw scallop ($28) has its purity and sweetness bolstered by black garlic and mandarin, then tempered by the salty umami of chicken skin. That same crumbled chicken skin goodness found its way onto a generous dollop of chicken liver parfait ($20), an exceedingly loose and creamy version, served with fluffy brioche and candied kumquats.
Advertisement
Would that more kitchens might give up the ubiquitous soft Italian gnocchi preparation in favour of the Parisian version ($38), lighter, fluffier, seared to give it delightfully crispy edges, and served here with cauliflower and a shower of aged goat's cheese.
My dining companion one evening rolled his eyes when I insisted on ordering the dish – "What will gnocchi possibly tell you about the cooking in a place like this?" – and then couldn't stop exclaiming how glad he was to have eaten it.
While the restaurant is known for its steaks, my porterhouse ($52) was the only dish with which I found any fault. The steak itself was slightly over-salted, and perhaps a tad more medium than the requested (and suggested) medium-rare.
But it was the side of "faux marrow potato" that didn't quite work. A potato carved into the shape of a marrow bone then filled with smoked mushroom persillade, the whole thing was a little too clever for its own good, the potato needing to be slightly undercooked to hold its hollowed-out-bone trick. I'd have preferred a real marrow bone, or a simpler, better-cooked potato.
Advertisement
To me, the kitchen's greatest strength is in seafood, in the aforementioned entrees and in the fish of the day, which recently has been a gorgeous hapuka ($44), white-fleshed and meaty, served with sweet clams.
Desserts are another strong suit, particularly the decadent chocolate marquis ($18), and the tarte au citron ($18), its pastry buttery and restrained, its sweet/sour filling silky and dusted with freeze-dried raspberries.
For the sweet-averse, however, the cheese selection ($18 for one cheese; $25 for three; $42 for five) is fantastic, which is no surprise – the cheeses are supplied by Spring Street Grocer (another Christopoulos business), which famously has one of the best collections in town.
This is Christopoulos' particular gift – to conjure venues that are bests, favourites, paragons of whatever form he and his teams are attempting and achieving. French Saloon has a formula that the city loved in the past and is likely to love well into the future. A hearty welcome back to one of our all-time favourites.
The low-down
Vibe: Artist's loft meets pared-back brasserie
Go-to dish: Raw scallop, $28
Drinks: Classic cocktails and nice wine list that is calibrated extremely well to the food
Cost: About $180 for two, plus drinks
Advertisement
Restaurant reviews, news and the hottest openings served to your inbox.
Sign up
Besha Rodell is the anonymous chief restaurant critic for The Age and Good Weekend.
Advertisement
Advertisement