Kitten found in stolen vehicle after crime spree police chase
Meriden, Connecticut: Police who were examining a stolen car for evidence made a surprising find — a kitten — and now they are looking for his owner.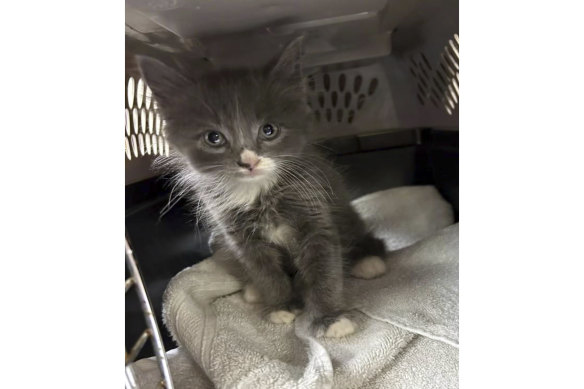 The gray-and-white male cat was perched under a seat in the stolen vehicle, which collided with a police car during a chase on Thursday, the Meriden Police Department said on its Facebook page and in a news release on Monday.
Officers were pursuing the car on suspicion that it had been used in armed robberies in several nearby communities hours earlier.
The Meriden Record Journal described a "reckless, 48-hour crime spree that police believe began with a stolen Hyundai in Darien [Connecticut], then a purse snatching in an apartment complex in Torrington [Connecticut], an armed robbery in Southington [Connecticut], a car fire in Hubbard Park in Meriden, armed robberies in Branford, North Haven and Wallingford [Connecticut] and ended in a head-on crash with a Meriden cruiser on South Broad Street".
After the crash, six suspects fled but were soon arrested.
"While processing the stolen vehicle after the accident a 7-week-old male cat was located under the seat."
"Our investigation has led us to believe this kitten was acquired somewhere between the robbery in Wallingford, Branford, Southington, and Torrington."
"We are hopeful someone recognises our adorable feline friend and can help us reunite him with his owner," the department said.