Aussies among those helping Hawaii fire response amid 'pure devastation'
Australian Sean Taylor and his wife Jax Taylor have joined convoys of cars on disaster-hit Maui this week to donate essential supplies, including clothes from their business's warehouse, to those fleeing Hawaii's deadly fires.
Fellow Australian resident of the island Adam Ravazzano has joined the massive recovery effort along with his wife, Shawn, offering free childcare to parents in need following America's deadliest fire in more than a century.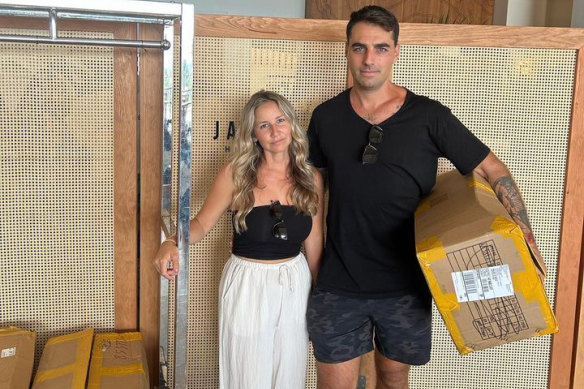 At least 99 people have lost their lives, and the death toll is expected to climb as search and rescue teams work in the town of Lahaina, where almost every building in the town of 13,000 has been destroyed.
Sean Taylor said the initial demand was for food and water, but he and his wife, Jax, had since sent petrol, propane and ice to people without power.
"The first word that comes to mind is devastation, pure devastation, to see the absolute unexpected come through," he said.
"A couple of guys didn't even have their wallets on them because they just walked out and have literally nothing left but a pair of board shorts."
Originally from the NSW Central Coast, Taylor said residents in an area two blocks from his home in Kihei, Maui, were evacuated when fires came through last week.
"There was a bit of fear for a few days," he said. "Now it's just all hands on deck – a community effort to get supplies to the west side of Maui and to the areas that did survive, but where they might not have electricity or running water."
Residents in Lahaina said the US government's response so far had been lacking, while people across Maui queried whether warnings were adequate and early enough.
Taylor said his experience was that the recovery effort had been community led.
"In terms of bigger-picture help from the federal government, it just seems like it's non-existent. It's truly just been the community effort and then the local police and the local fire station," he said. "If it wasn't for the community, we'd all be devastated even more."
The Australian Department of Foreign Affairs and Trade has confirmed it is assisting Australians affected by the fires through the consulate-general in Honolulu. The advice from the Australian government this week was for travellers to leave Maui.
"The Australian government offers its deepest sympathies to those affected by the devastating wildfires on the islands of Maui and Hawaii," a spokesperson said.
"Visitors with plans to stay in west Maui in the coming weeks and months are urged by the Hawaii Tourism Authority to consider rescheduling their travel plans for a later time when the situation has improved."
Ravazzano, from the Sunshine Coast, runs a photography business from the south of Maui, where he lives with his wife and their two children.
He said the fires came as close as one kilometre from their neighbourhood on August 8, which was particularly frightening because of a lack of directives from authorities.
"The kids were sleeping, but there was smoke and ash in the house, and there wasn't a lot of information," he said. "We didn't sleep that night."
The couple have been using social media to keep residents connected and offered free childcare to working parents since the schools shut down.
Ravazzano said they witnessed a huge outpouring of support from the community when they visited donation centres and shelters.
"Just seeing people rally the way they have and come together, it's been massive," he said.
Authorities reported that the Lahaina fire was 85 per cent contained on Monday night (US time), and another blaze known as the Upcountry fire was 60 per cent contained.
An investigation into the cause of the fires is under way. The flames are believed to have been fuelled by a dry summer and strong winds from a passing hurricane.
Ravazzano said the pandemic had taught people living on the Hawaiian islands how to survive anything, but he expected the recovery effort to be a marathon.
"The island and island chains here strengthen when they need it," he said. "Nothing will be the same, but it definitely can be recovered to move forward."
He said he had no plans to return to Australia with his family despite the difficult weeks and months ahead.
"Maui is home and I love this place," he said. "I don't plan on going anywhere."
Get the day's breaking news, entertainment ideas and a long read to enjoy. Sign up to receive our Evening Edition newsletter here.
Alex Crowe
has worked as a breaking news reporter for The Age since June 2023. Previously, she was environment reporter at The Canberra Times.