A two-bedroom "irreplaceable" South Yarra home owned by a Melbourne artist has fetched a reserve-smashing $1.76 million at auction after five buyers threw down a flurry of fast and furious bids on Saturday.
The architecturally designed residence at 32a Cromwell Road attracted a crowd of 80. Bidding kicked off at $1.3 million and strong competition pushed the price $260,000 above the reserve.
Located just steps away from Hawksburn Village, the stylish home was designed by architecture firm Wood Marsh in 1994. Two years later, it won the Harold Desbrowe-Annear Award for best residential project.
Auctioneer and co-selling agent David Sciola, of Jellis Craig Stonnington, said the home had been owned by artist Julia Ritson since 2007, when records show it last traded for $855,000. She was selling up to move to the country.
Sciola said the level of buyer interest in the home, which had a price guide of $1.4 million to $1.5 million, was some of the strongest he had seen in years.
"I don't think we've ever had so many views online for a property," Sciola said.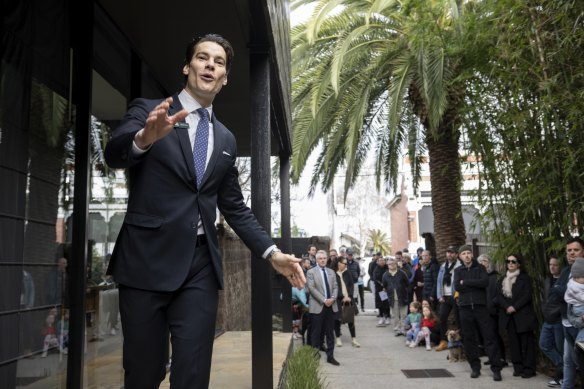 "And that's because the home is such a great design. It's on this inner-urban block with four individual townhouses that have no common walls, so it's almost freestanding. There's a magnificent garden too, and it almost has mid-century vibes.
"It sold well above reserve, but then again you couldn't replace it for that amount today with the current cost of construction … and the bidders knew that."
Most of the buyer interest, Sciola said, came from downsizing Baby Boomers.
The home was one of 704 Melbourne properties scheduled for auction on Saturday. By evening, Domain Group recorded a preliminary auction clearance rate of 68.1 per cent from 508 reported results, while 52 auctions were withdrawn. Withdrawn auctions are counted as unsold properties when calculating the clearance rate.
In Carlton North, a first home buyer spent $1.6 million on a two-bedroom Victorian home owned by former Essendon footballer Devon Smith.
Smith, who retired from the AFL after a solid career that saw him claim the Crichton Medal for best and fairest in 2018, bought the investment property at 749 Drummond Street for $1.06 million in 2015, records show.
Charlie Barham, of Nelson Alexander Carlton, said bidding started strong at $1.45 million, topping the $1.4 million reserve and $1.3 million to $1.4 million price guide.
Bidding climbed in $10,000 increments until the $1.5 million mark, and a flurry of bids ranging from $1000 to $10,000 were thrown out in quick succession afterwards.
"We had four bidders throw up their hands and three of them were first home buyers," Barham said.
"This is a really strong result, and I think it's because stock has been low, and it's a good quality home."
In Wantirna South, a family forked out $1,352,000 for the four-bedroom brick home of Steve Csiszar, the general manager of medical mask manufacturer Med-Con – a Shepparton-based company, which was making millions of masks per week during the pandemic.
Selling agent Matthew George, of Ray White Ferntree Gully, said Csiszar had owned the tidy family home at 5 Lillee Close for almost four decades. Records show the home last traded for $29,850 in 1984.
The property was listed with a price guide of $1.15 million to $1.25 million. Bidding started at $1.1 million and climbed in $25,000 increments to start, and competition from four buyers pushed the price past the $1.25 million reserve. The home sold to a buyer who already had family living next door.
"It was the location and size that attracted the bidders, and also there's nothing left to do on the home, and those properties are in high demand right now," George said.
Living close to family was also a motivating factor for the buyer of 2/81 Challis Street, Newport, who paid $580,000 for the two-bedroom home, as she wanted to live close to her child.
She outbid a first home buyer and one other party in a six-minute auction that pushed the price $80,000 above the reserve.
"It was that liveability and the fact that you could move into the home straight away that led to such a great result," said selling agent John Limperis of Williams Real Estate.
The home had a price range of $495,000 to $540,000 and last sold for $388,000 in 2013.
In Seddon, an Edwardian home at 37 Hobbs Street sold for $2,115,000 shortly after it was passed in at auction for $2.06 million.
Selling agent Huss Saad, of Village Real Estate Seddon, said just one bidder raised their hand at the auction, but the property ultimately sold to the local upsizing family for the reserve price. The home had been guided at $1.95 million to $2.1 million.
"We're finding buyers are taking a bit more of a passive approach ... but good properties are still getting sold even if they're passed in," Saad said.
The result was more than double the $1 million that records show the property last traded for in 2020, but it had been extensively renovated since.
"This home was only renovated a year and half ago, and it's a big house. Not only does it have four bedrooms now, but it has a separate study, an open wood fireplace. It's just been done beautifully ... and [the owner] managed to do it right before building costs shot up," Saad said.