Snap Shot is a weekly column taking a look at the lighter side of football.
Perhaps we have all become so accustomed to Geelong star Jeremy Cameron sneaking around the back of his teammates to receive a handball and kick a long curling snap goal that the event doesn't register as much as it should.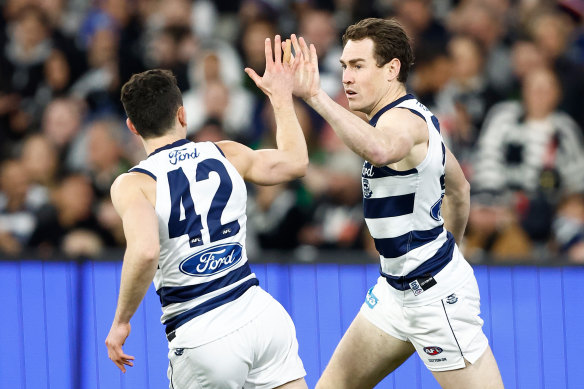 Or perhaps the fact he repeated his banana goal from last year's qualifying final with another goal from the same spot on Friday night against Collingwood has made us oblivious to the skill on display.
Or perhaps there is another reason why those at the AFL responsible for nominating three goal-of-the-week contenders each round decided neither of his two goals (his fifth and sixth of the night) near the boundary in the second half of Friday night's blockbuster against Collingwood deserved a nomination.
Now, we understand it is a subjective exercise, so a defensible argument can be raised to include Richmond's Nathan Broad, Hawthorn's Will Day and Port Adelaide's Sam Powell-Pepper in the nominations ahead of either of Cameron's kicks. And, to be fair, Powell-Pepper's goal is likely to be the best of the bunch when the goal-of-the-round is voted upon.
While the AFL conceded on Saturday that Cameron's sixth goal should never have been allowed because he received the handpass outside the field of play, that's actually what made it such an impressive kick, and it technically still does stand as a goal. So, it could win a reprieve as one of the five goals that will be added to the 23 weekly winners to form the final contenders to be voted on for goal of the year.
Given that Cameron took the handball from Close with one foot still on the astro-turf that rings the fence we can understand that its legitimacy may have influenced thinking. However, despite some enquiries, we have not been able to find any evidence that was the case.
In any event, the league would have been aware what Victoria Police thought, given the constabulary's cheeky post on social media on Monday, which said the lines on the road weren't as subjective as the MCG boundary lines.
Whatever the thinking, the goal is in the book, which will help Cameron break his teammate Tom Hawkins' 11-season run as the Cats' leading goalkicker. "Jezza" now has a six-goal lead on the Tomahawk. It would be good to see Hawkins get within one goal of his good mate in the final rounds to put himself in the position to fire in a protest.
Reality TV footballers
Some AFL players just have a knack for positioning themselves on camera, but few can top the efforts of former Brisbane Lions player Matt Eagles when it comes to getting your bonce on television after just half a dozen games.
Of course, Eagles made his way on to the Lions' list when he won the AFL's reality television show The Recruit, and somehow the AFL facilitated him becoming a category B rookie-listed player in 2017.
He made the most of his opportunity, making his debut for the Brisbane Lions in round seven of 2018, and managing six senior games as a handy defender before being delisted at the end of 2020.
It took some eagle eyes to spot Eagles standing side stage of the reality TV show, The Voice, on Sunday night to watch his best mate Nick Cunningham perform the Men at Work classic Down Under during the show's blind auditions segment.
One of the judges Guy Sebastian – who performed at the AFL's soiree before Gather Round this year – spotted that Cunningham may have played Australian rules in his time but failed to recognise Eagles watching on.
Cunningham played a few games in the Northern Football League for Hurstbridge this season before commitments – and The Voice – dragged him back to Queensland. But we bet he'll be watching whether "The Bridges" can force their way into the Division One finals for the first time.
AFL players have a long history appearing in reality TV shows.
Essendon's football director Andrew Welsh once appeared on Celebrity Splash, Anthony Koutoufides and ex-player and current goal umpire David Rodan had a strut on Dancing with the Stars, Ryan Fitzgerald was a housemate on Big Brother, a reality show prominent player manager Ben Williams once won, and Brendan Fevola won I'm a Celebrity ... Get Me Out of Here.
Could that be departing AFL CEO Gillon McLachlan's next gig? He's proven he'd be hard to eliminate.
On the coach's whiteboard
Before you go, here are ...
Five key lines Snap Shot believes senior coaches use that don't reflect the reality:
"We aren't thinking about finals."
"I didn't see the incident."
"There are many things player [inset name here] is doing that aren't obvious."
"He's a required player."
"The only thing we are interested in is coming in here and trying to get better every day."
They said
"I actually didn't see it. People that know the game well say that it wasn't outside the boundary," Geelong coach Chris Scott's response to queries about boundary umpiring decisions that led to Jeremy Cameron goals.
But they forgot to say
"I actually didn't see it. People that know the game well say that it wasn't outside the boundary once he kicked it."
Keep up to date with the best AFL coverage in the country. Sign up for the Real Footy newsletter.