England have outpassed and outscored us. These stats reveal the Matildas' edge
If you thought the white-knuckle ride of the quarter-final win against France was nerve-racking, then watching the Matildas play for a spot in the World Cup final is likely to be another story entirely.
European champions England, so far, have been pass masters at this World Cup, dominating possession against each opponent they have faced – and the trend is set to give Australia another night of dogged defending to protect Mackenzie Arnold's goal.
But it's not as if the Matildas haven't been here before.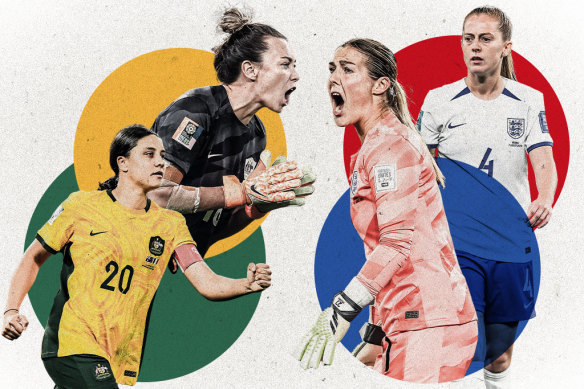 Tony Gustavsson's side fashioned a 2-0 friendly win over the Lionesses in London earlier this year, ending England's 30-match unbeaten run.
England manager Sarina Wiegman lamented her side's lack of urgency with the ball, as goals to Sam Kerr and Charli Grant completed Australia's hit-and-run mission and fuelled confidence before the World Cup.
England have scored eight goals this tournament to Australia's seven. The Lionesses have held the ball for longer than the Matildas, been more efficient with their passes and made more tackles (more on this later).
But can the Matildas engineer another counter-attacking masterclass at Stadium Australia on Wednesday night? And how will it play out?
Death by a thousand passes
Comparisons between the Matildas and England in this World Cup are easily made given both sides have played five matches and had to go to extra time in one of their knockout matches.
And the numbers suggest the Lionesses will again boss the ball far more than the Matildas.
According to Sports Reference, England players have received more passes (2757) in the World Cup, far outstripping Australia's 1626. Spain have the most, with more than 3000.
But it's not only how long they have with the ball that is impressive, it's the efficiency with which they use it.
Their passing accuracy of 81.9 per cent is also far better than Australia's (70.7 per cent).
If you want an indication of which part of the pitch the semi-final is most likely to be played in, the data suggests the Matildas will be hemmed in their half for long periods, with England completing 255 passes in the final third, way ahead of Australia's 121.
But does it mean anything?
Gustavsson has set up the Matildas to be comfortable without the ball for long periods and use the pace of Caitlin Foord, Hayley Raso and Sam Kerr on the counter, with Mary Fowler key to the transition.
In perhaps their two best performances of the World Cup so far, against Canada and Denmark, the Matildas had far less possession than their rivals.
They pulled off the perfect game plans while in their only loss of the World Cup so far, against Nigeria, they dominated possession stats and were hit with sucker punches either side of half-time.
Put the boot in
Arnold has kept more clean sheets (four) in the tournament than any other goalkeeper, and remarkably has only conceded three goals all tournament in the shock loss to Nigeria.
But her back four has provided an excellent shield throughout — and here are the numbers to prove why.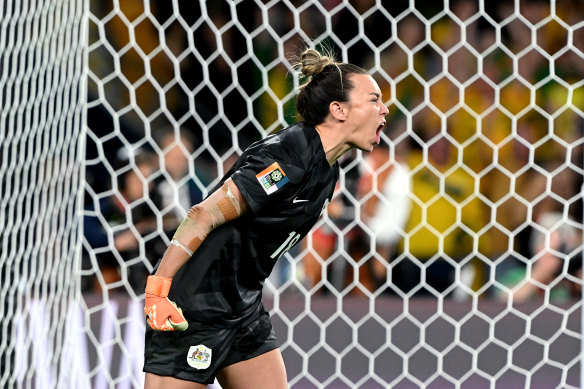 No team have had to soak up more pressure or play out from the back as much as the Matildas, who lead the World Cup in touches in their defensive penalty area (365), defensive third (1114) and clearances (161). By contrast, England have had far less to do with the ball down their own end.
But why have the Matildas been so frugal in conceding goals under so much pressure?
It's in part due to the telepathic understanding of their defenders, a sprinkle of desperation but also wonderful technique in making tackles.
The Matildas have won possession in 60 of the 85 tackles they've attempted throughout the tournament, the most efficient of any World Cup contender. England has won just 57 of 110 duels.
Australia's ability to stunt the England attack will again rely on efficiency in winning the ball back in tackles.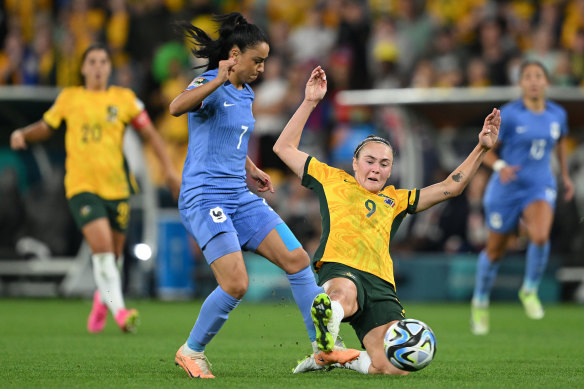 Cornering England's goalkeeper
This is an area Australia has desperately been trying to improve throughout the tournament, and it's likely to present one of the Matildas' best chances to crack the England rearguard.
The Lionesses' No.1 Mary Earps was lobbed by an inauspicious cross/shot from Colombia's Leicy Santos in the quarter-final and has one of the lowest percentages for collecting crosses into the area in the World Cup (4.6 per cent). Arnold is more proactive at 7 per cent.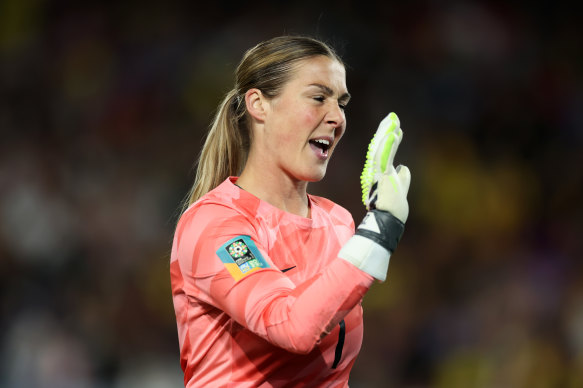 While being inferior to England in many attacking areas, the Matildas have had more corners in the tournament (37 to 31). But it's what they do with them that has been intriguing.
Australia have almost exclusively preferred inswinging corners (34 of 37) through Steph Catley and Kyra Cooney-Cross, which will curl devilishly towards Earp's goal, while England have used a mix of inswingers, outswingers and straight corners.
It suggests Gustavsson will want his players crowding Earps and making life as uncomfortable as possible from set pieces.
How heavy are the legs?
Gustavsson's reliance on his starting XI throughout the tournament has been well discussed, with eight of his squad playing almost every single second of the five matches so far.
But it might be a surprise that Wiegman has been equally frugal with her squad.
Both the Matildas and England have only had 17 players feature in the tournament so far, the equal fewest alongside Morocco, Costa Rica and New Zealand.
Those three sides were all knocked out in the group stage after just three games.
While Wiegman has only made one more substitute than Gustavsson across five matches so far, she has regularly turned to her bench earlier. England's substitutes have averaged 20 minutes per game compared to Australia's 12 minutes, the fewest of any team in the tournament.
Will it have an effect in the final minutes on Wednesday night?
Not another penalty shootout...
Both sides have shown cool heads in penalty shootouts this tournament; Australia's remarkable quarter-final heartstopper against France and England's emphatic masterclass against Nigeria.
All the Matildas' eight successful spot kicks were low to the ground, while England's converted penalties were driven high into the net.
Clubmates one minute, enemies the next
Sam Kerr v Millie Bright
Given many of the Matildas squad play in England, there will be a lot of familiarity between players. But perhaps the most important match-up will be between the two captains and Chelsea teammates.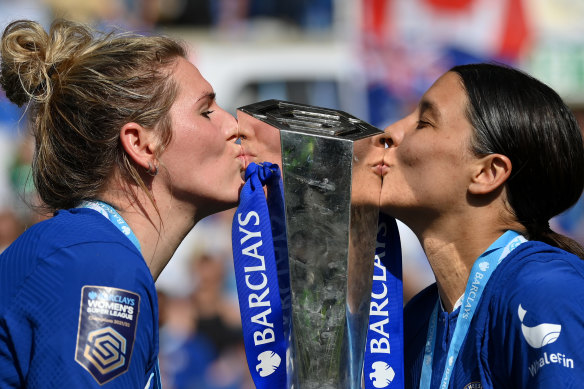 Matildas skipper Sam Kerr provided an immediate injection of speed and energy when climbing off the bench in the second half against France as she builds fitness after her calf injury, and few will know her game as well as Bright, who will be at the heart of the England defence.
She will be familiar with Kerr's ability to make runs off the shoulder of unsuspecting defenders, and won't want to give Australia's record goalscorer, only a few weeks younger than Bright, any half chances.
Alanna Kennedy v Lauren Hemp
Like Kerr with Bright, Australia's central defender Kennedy is all too familiar with the threat of Manchester City clubmate and England striker Lauren Hemp.
Kennedy and World Cup rookie Clare Hunt have been superb in the Matildas' back line, but they are likely to face a dual threat against England with Hemp and Arsenal's Alessia Russo leading the line.