He lived his premiership dream three times over and got to be a rock star for a night, but there is one moment aside from his three winning grand finals that Jack Riewoldt will cherish most.
Riewoldt will play his 347th and final match for Richmond on Saturday after announcing that he would join former captain Trent Cotchin in retirement.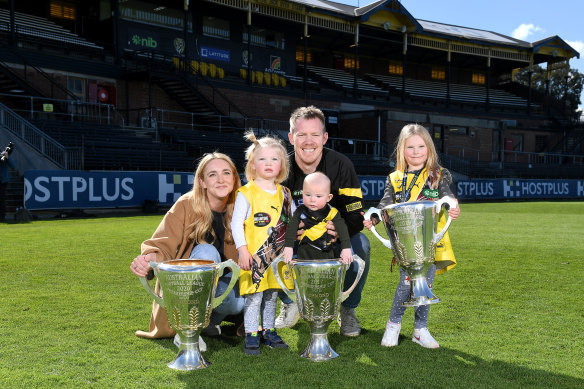 The image of the star full-forward up on stage with The Killers, belting out Mr Brightside with lead singer Brandon Flowers, captures the elation of the drought-breaking 2017 flag.
But Riewoldt also recalls the pure joy of round 23, 2014, when the Tigers were on an eight-game winning streak chasing a finals spot after being booted out in an elimination final in 2013. Former captain Chris Newman was playing his 250th game against the top-of-the-table Swans in Sydney.
"I'll never forget that day," Riewoldt said on Tuesday. "I'll never forget that little patch that [Swans defender] Ted Richards slipped on trying to catch 'Dus' [Dustin Martin] and 'Dus' kicked the sealer, and to win for someone like 'Newy' was really important for us and important for me.
"Outside of finals, that's probably my favourite memory."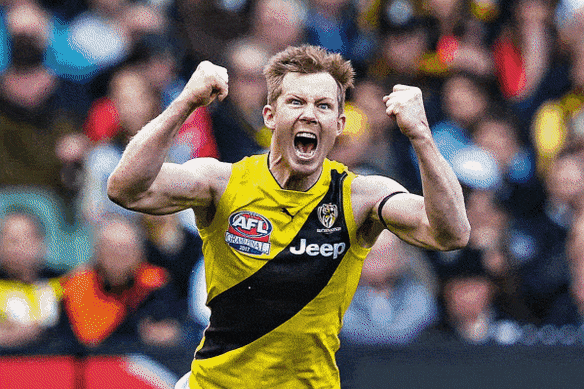 Riewoldt was the last player to touch the football in that match, booting it into the sky as the siren went to signal a three-point win.
The Tigers lost the elimination final to Port Adelaide, and lost a third straight elimination final in 2015 to North Melbourne, before finishing outside the eight in 2016, with Richmond's future under coach Damien Hardwick at a crossroads.
The club famously showed faith in Hardwick, who went on to lead the Tigers to three flags in four seasons with captain Cotchin, Riewoldt and Martin as the pillars of the team's success. Less well known is a meeting between Riewoldt and Cotchin at St Rose cafe in Essendon, which cemented a culture change at Richmond.
Riewoldt said he and Cotchin were discussing how they could provide second-year player Daniel Rioli with a premiership, thinking it would come after they had finished their careers.
"Whilst we spoke about Daniel playing in the next premiership and being a part of that next Richmond cup, we found ourselves smack bang in the middle of it," Riewoldt said.
"I think of 2017, and we probably weren't the most talented list out there but we had this superpower that we created through an ability to connect on a different level.
"We were an amazing defensive team that year, but we had this trust and belief in each other that we unlocked. Other people saw it as a strength and copied it. Ultimately, we were the only team that could do it in that time, it was unique to us, and I'm really proud of that."
Cotchin and Riewoldt came into this season wanting to enjoy every last moment – besides their last game at Marvel Stadium, which Riewoldt joked should be burnt down given the Tigers have notched one draw and seven losses from their past eight matches there.
Riewoldt called Hardwick, who was shopping in London, on Monday night to thank him for the role he played in his career, and said he'd made a conscious effort to enjoy moments that were likely to be his last.
On Saturday, Riewoldt and Cotchin will run onto the field for the final time, but Riewoldt said the club is ready to begin a new era without them.
"I do really see similarities to 2016 and what we've done, it's a really great time to refresh as a club," he said.
"I'm intrigued about what that looks like.
"I know we've got some amazing talent in the room, talent we haven't even seen at AFL level yet that I can't wait to see, and we've got some great guys coming through that have to grab the leadership mantle.
"I'm looking forward to being on the other side of the fence and experiencing that journey with a different lens, and being proud to say I was a Richmond man, and I am a Richmond man."
Keep up to date with the best AFL coverage in the country. Sign up for the Real Footy newsletter.