Updated
first published at
A Melbourne council will shut down dozens of kindergartens, leaving 1100 children in limbo, while another municipality is considering closing its facilities because of cost pressures from the state government's free kinder program.
Knox City Council in Melbourne's outer east will stop running all but two of its 28 kindergartens from January 2025, affecting 120 workers and placements for 1100 children aged three and four.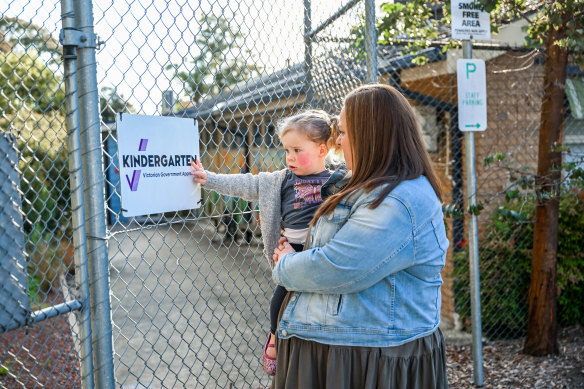 Knox Mayor Marcia Timmers-Leitch said the free kinder policy was a factor in the council's decision to end the services.
"There are big changes coming for kindergarten as part of the state government's decision to increase hours, make kindergarten free and offer a second year of kindergarten before school," she said.
"Independent providers can be more agile and flexible in the way they plan, adapt and deliver their services when kindergarten is their core business."
Strong demand for the government's free kinder program is already threatening to overwhelm capacity at some centres.
Timmers-Leitch said it had been difficult to adapt to the changing policy environments.
"Funding has not kept up with the cost of providing many of the services we provide on behalf of state and federal governments," she said.
Meanwhile, Mornington Peninsula Shire, which provides facilities for 28 sessional kindergarten services, is also assessing its operations in light of the government's free kinder program.
A spokesman for the council said its kindergarten facilities needed $53.6 million in upgrades and – with an annual capital works budget of $50 million – it could not fund that itself.
Mayor Steve Holland said the council was obligated to allocate funds in its budget equitably to benefit the whole community, including facilities for seniors, sporting groups and community groups.
"Right now, the future of some local kindergartens is in jeopardy due to the impact of an expanded kindergarten program and lack of appropriate funding," he said.
Municipal Association of Victoria president David Clark said he expected more councils would exit kindergartens, just as many had stopped providing in-home aged care.
"It is really just not a core bit of business for councils to manage, and it does not fit very well in what the provisions of councils are," he said. "I think councils' role will lessen ... in the next three to five years, where it will go to specialist providers if it hasn't already."
Victoria last year became the first state or territory to give children access to two years of funded kindergarten before school. It is not compulsory in Victoria, but it is strongly encouraged that children attend two years of preschool to prepare for school.
The government is rolling out five to 15 hours of free kindergarten for three-year-olds across the state and 15 hours for four-year-olds. Over a 10-year period, four-year-old kinder will increase to 30 hours. The government has said services will progressively increase hours as the infrastructure and workforce capacity grows, which will be reviewed each year.
But some providers have already been overwhelmed with interest, leaving parents at risk of being turned away as kindergartens reach capacity and forcing some centres to trial Saturday programs for three- and four-year-old kinder.
The Age reported in September last year that some of Victoria's most expensive community not-for-profit kindergartens were yet to sign up for the free kinder program because they feared it would send them broke.
Knox is now looking for alternative operators – including in the private sector – to take over its kindergartens.
Timmers-Leitch said Knox would make its buildings available to other sessional kindergarten operators from January 2025, and would continue providing sessional kindergarten at the Knox Children and Family Centres in Bayswater and Wantirna. Kindergarten enrolments in Knox for 2024 will not be affected.
"Council has an important role to play in planning and supporting services for our youngest residents and their families, and the best way to do this is not always by being a direct service provider," Timmers-Leitch said.
A Victorian government spokesperson said Knox's decision to pull out was disappointing.
"The Department of Education will work with Knox City Council as they work to appoint a new provider to ensure local families can continue to access a high-quality kindergarten program," the spokesperson said.
State opposition education spokesman Matthew Bach said free kinder was "a cruel hoax" and warned there was a shortfall of millions of dollars needed to upgrade kindergarten facilities to meet the influx of new children.
"The state government simply released a thought bubble in the context of the election," he said. "We have learnt that none of the important planning was done."
The state government spokesperson said it was providing support for local governments to deliver high-quality kindergarten services.
Knox council includes the suburbs of Ferntree Gully, Boronia, Bayswater, Wantirna, Scoresby, The Basin, Lysterfield and Rowville. It spent $3.3 million last year on kindergarten services, excluding corporate overheads and capital works.
Vanessa Roy's three-year-old daughter, Phoebe Austin, is enrolled to start her first year of kindergarten at Knox council's West Gully kindergarten next year.
"I am absolutely devastated," Roy said. "Long day care does not suit me or my child or my family. The waiting list to get into long day care is huge, and I would be paying more money than council-run kinder."
Long day care is all-day or part-time care for children, whereas council-run care is often sessional and for shorter periods of time.
Roy said she was concerned her daughter would not be able to attend kindergarten in the area near where they lived and was worried about the quality of care provided.
"These are sessional kinder teachers with the qualifications, experiences and resources to help teach our children," she said.
Meredith Peace, Victorian branch president of the Australian Education Union, accused the council of walking away from the provision of essential kinder services despite overwhelming community demand.
She said the decision was a "significant blow to local families and children, and the teachers and educators that educate and support them".
"This shows a complete lack of respect for the staff, families and the local community, and our members who work for City of Knox are deeply despondent today," she said.
A spokeswoman for Knox said it would not know the full impact on staff until the expression-of-interest process was complete.
Peace said the council was not elected with a mandate to withdraw from providing kindergarten services.
Early Childhood Australia chief executive Sam Page said she did not understand why councils were looking to pull out of kindergartens as there was enormous growth predicted in the sector with the free kindergarten program.
"The trajectory is lots more funded hours for a lot more children," she said. "It is perplexing to wonder why it would create sustainability concerns."
Page said standalone kindergartens – such as the council-run kindergartens – tended to perform well on the quality standards set by the Australian Children's Education and Care Quality Authority.
"There are several factors as they operate shorter hours, have stability of children in a narrower age range and a high-quality staff," she said.
There are 655 kindergartens managed by state and local government in Australia, and Page said it was a particularly popular model in Victoria.
"It concerns me that we are losing local government providers because they have played an important part in the sector: they are good employers, they invest in their team, pay good wages and have good facilities."
The Morning Edition newsletter is our guide to the day's most important and interesting stories, analysis and insights. Sign up here.