'Might be in love again': Rupert Murdoch reportedly dating Roman Abramovich's former mother-in-law
London: Rupert Murdoch has reportedly begun a romance with the former mother-in-law of Roman Abramovich months after calling off what would have been his fifth wedding.
The 92-year-old media mogul is said to be dating Elena Zhukova, 66, whose daughter Darya was married to the Russian oligarch until 2018.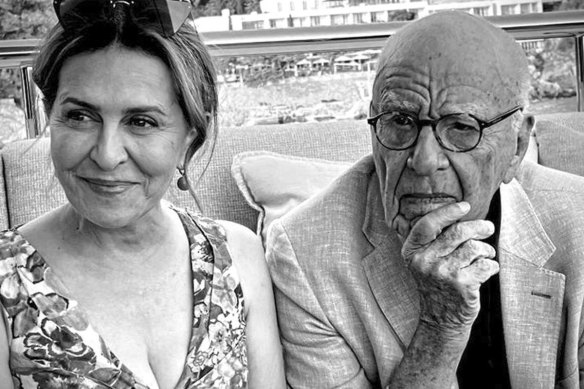 Retired scientist Zhukova is holidaying with Murdoch and two of his children in the Mediterranean aboard the rented yacht Christina O.
The Daily Mail reported that the couple were said to be in the "early stages" of a relationship, having known each other for years.
A separate report in the US cited a source saying Murdoch "just might be in love again".
A representative of Murdoch declined to comment on the reports.
Zhukova, who has been divorced twice, has lived in America since leaving Russia in 1991 and is a friend of Murdoch's third wife Wendi Deng, through whom they met.
It has been reported that Murdoch's two daughters by Deng, Grace and Chloe, are also aboard the 18-bedroom yacht, which was formerly owned by the Greek shipping magnate Aristotle Onassis and is said to cost more than £600,000 ($1.18 million) a week to rent. It was spotted off the coast of Corfu this week.
Murdoch had intended to marry American former police chaplain Ann Lesley Smith this northern summer, but in April he called off their engagement just two weeks after proposing.
He had told the New York Post at the time the engagement was announced in March: "I was very nervous. I dreaded falling in love – but I knew this would be my last. It better be. I'm happy."
Instead, he has become close to Zhukova, who worked as a molecular biologist at the University of California until she retired.
Her daughter Darya, 42, nicknamed Dasha, was married to former Chelsea FC owner Abramovich for 10 years and had a son and a daughter with him. She is now married to Stavros Niarchos, the son of a Greek shipping billionaire, with whom she has a two-year-old son.
Murdoch is not the first multimillionaire to woo a beautiful woman on board the yacht. Onassis whisked Jackie Kennedy away for a romantic cruise on board before marrying the widowed former US first lady, and Prince Rainier of Monaco chose the vessel for his wedding reception after marrying Grace Kelly.
The Australian-born businessman has rarely spent long without a woman at his side. He started dating Smith within months of divorcing his fourth wife, model and actor Jerry Hall.
He married his second wife Anna Torv in the same year that he divorced his first wife Patricia Booker then, in 1999, he married Deng 17 days after finalising his divorce from Torv.
Zhukova is a year older than Murdoch's oldest child Prudence, 65, his only child with Booker. He had three children with Torv: Elisabeth, who will be 55 this month, Lachlan, 51, and James, 50. Deng is the mother of his two youngest children Grace, 22, and Chloe, 20.
Murdoch has reportedly spent time on his holiday with Lachlan and his wife Sarah, who are sailing in their own yacht, and has also been visited by Elisabeth and her husband Keith Tyson.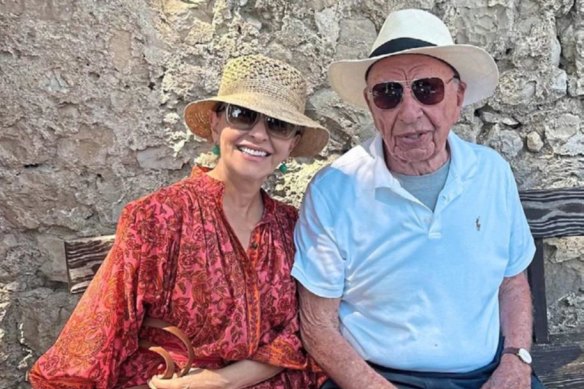 Zhukova was previously married to financier Alexander Zhukov, who has lived in London since 1993 and is now a British citizen. The couple separated in 1991 and Zhukova moved from Moscow to the US, where she brought up her daughter Darya in the family's Jewish faith.
If Murdoch were to marry Zhukova, he would become stepfather to Darya, who is an art collector and sits on the boards of three art galleries, including the Metropolitan Museum of Art in New York.
Zhukova – who also has 31-year-old twins Katya and Yuri from another relationship – is close to Darya and spends a lot of time with her grandchildren, Aaron, 14, and Leah, 10, whose father is Abramovich, as well as two-year-old Philip.
Ironically, Darya's current husband is the scion of a shipping dynasty that was in direct competition with Onassis, former owner of the Christina O.
Other famous names who have been guests on the 325-foot yacht in the past include John F. Kennedy, Winston Churchill, Marilyn Monroe, Frank Sinatra, Greta Garbo, John Wayne, Elizabeth Taylor and Richard Burton.
It was bought by the charter firm Morley Yachts earlier this year.
The Telegraph, London