My father brought his new fiancée into our home. This is how my mum and I coped
I have very few memories of my parents as a couple, but their stories from before I was born are legendary. Dad was a guitarist in Perth's underground music scene in the 1980s. Mum attended gigs with a punk Dad assumed was her boyfriend, until finding out they were brother and sister. There was a shared car to the Red Parrot nightclub. Mum wore a T-shirt covered in cute cartoon animals that, on closer inspection, appeared to be copulating.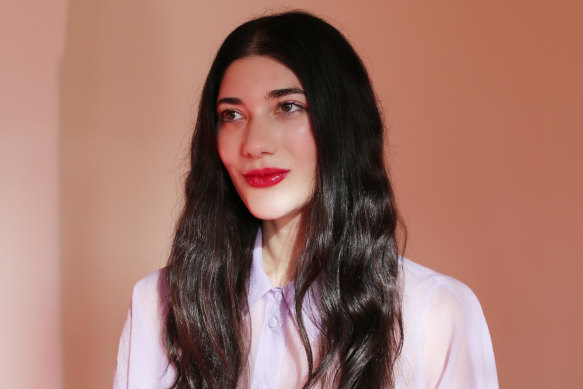 They moved to Sydney in pursuit of Dad's dreams of going pro, living with the band in a share-house that Mum refused to clean for fear of being saddled with all the housework. Once, a mouse crawled into the toaster and was incinerated. Another time, Mum worked alongside a beautiful nurse whose body was later found in a paddock. An American record deal came along, but Dad no longer liked the band. In 1987, they headed back west, Dad got a job in mining, Mum got pregnant, and their starving-artist era concluded.
My sister K and I were born 18 months apart, at the tail end of the 1980s. Those months made a difference. When Dad accepted a FIFO position with a coal mining company in Kalimantan, Indonesia, K missed him and anticipated his returns, whereas I sometimes forgot who he was. When our parents began to argue in the laundry on Dad's visits home, K cried and attempted to make peace, while I enjoyed the extensive collection of toy dinosaurs that Dad's mining money had afforded us. At some point they broke up, but it didn't really register. Mum was always there. Dad was sometimes there. I didn't mind. When he brought home his new fiancée in 1996, I was thrilled.
Wida was a travel agent from Jakarta, the second-youngest of 11 siblings. In contrast to Mum's silver suns, moons and crucifixes, she wore gold hoops and a gold Koran necklace. Her voice was loud, not soft. Her make-up, red lipstick rather than black liquid eyeliner. But both women were petite and dark, with short, stylishly cut hair. I loved them both, unquestioningly.
After a dinner of pasta, cooked by Mum, Wida tucked us in, kissed us goodnight, then helped with the dishes. Years later, I'd learn how hard that night was for both women: one hosting her ex's fiancée, the other doing her fiancé's ex's dishes. Mum told me how she tried her best to put jealousy aside. "There was another adult who was ready to love you. The more love you had in your life, the better."
Years later, I'd learn how hard that night was for both women: one hosting her ex's fiancée, the other doing her fiancé's ex's dishes.
Dad and Wida lived on-site in Kalimantan for a year. There wasn't much for Wida to do there besides cooking and playing cards with the other wives and girlfriends, most of whom weren't as cosmopolitan as she was. When an impending visit from President Suharto was announced, she and Dad were banished to a resort in Bali for the week, along with the other westerners and their Indonesian partners. It was thought that their presence would offend Suharto, whose anti-communist regime had enabled global corporations to profit off Indonesian land.
After Wida fell pregnant, she and Dad rented a flat in South Fremantle. K and I began spending more weekends and after-school hours there while Mum worked or studied, gorging ourselves on Cadbury Roses while watching The Nanny and Julia Roberts movies. Often, we went on outings to Timezone and Pizza Bella Roma. My stepmum had a unique way of eating pizza, which involved blotting the oil from its surface, peeling back the cheese, and smothering the base in a layer of the ABC Sambal Extra Pedas she always kept in her handbag.
Out in public with Wida, my sister and I were sometimes mistaken for her biological daughters and occasionally party to the judgmental looks she got from white women. We picked up enough Indonesian to hunt for the items on her shopping lists whenever we did a Coles run, and to joke about bodily functions with impunity in the presence of our British grandparents.
Once our baby sister M was born in May 1998, however, my "Indonesianness" seemed more tenuous. Wida's mother flew over from Jakarta and spent hours massaging M's in-turned toes so that she would be able to walk normally, tuning in to SBS News Bahasa Indonesia at 5.30pm, the time we would usually watch The Animals of Farthing Wood. When I complained that the news of the 1998 riots – which led to the deaths of more than 1000 people and the end of Suharto's New Order – was preventing me from following the adventures of my favourite British woodland creatures, Dad curtly told me: "Too bad".
There was a freckly blonde my age who lived downstairs in the same block of flats. Like me, she had an older sister and a father who sometimes worked on the island of Borneo – albeit in Brunei, not Kalimantan. Like me, she was a bit feral, in the way Fremantle kids with lenient parents could be.
Our favourite activity, other than swimming in the complex's pool, was to visit the corpse of a gigantic moth that had been flattened in the underground carpark. We always did so barefoot. After tracking dirt inside the flat on too many occasions, my stepgrandmother gave me the nickname "anak kambing" – goat child.
"No two kids are raised in the same family," author Dr Gabor Maté once said. Looking back, this was true of me and my three sisters. I was 13 when Nadia, my youngest sister, was born – no longer "anak kambing", as Dad was no longer working FIFO, and Wida no longer new to Australia. Each of us girls came into the world at different stages of our parents' lives and had different childhoods as a result.
Although I wasn't jealous, exactly, that K had stronger memories of Mum and Dad as a young, still hopeful couple, or that my little sisters grew up with parents who were married and living under the same roof, I keenly felt our difference. And sometimes the smaller family unit I shared with Mum and K seemed lonely compared with the extended network of cousins, uncles and aunties (blood-related and not) that my little sisters inherited from Wida.
In 2017, I spent two months in Jakarta on an Asialink Arts Residency, with the plan of writing about my family. I didn't expect to feel such shame when I got there – both at my relative ignorance of the language, history and culture, and the fact that I was being paid to make art there, despite this ignorance.
I wondered if my residency was an act of colonisation, similar in spirit to the extraction of natural resources by multinational corporations in Kalimantan. I wondered what it meant to make art as the daughter of a man who'd set aside his own artistic ambitions to start a family, fed by coal.
It was important to ask myself these questions. It was also important to meet up with Wida and spend time together in her country. Because wherever these questions led, I may never have asked them without her influence.