The job description document that Richmond sent out to candidates for the senior coaching position contains words not traditionally associated with AFL coaches, nor with a combative macho game that has been a playground for Alpha males.
In the document, which this masthead has seen, the Tigers tell the candidates they want requisite football expertise and nous, the ability to deliver a game plan and clear communication to "all stakeholders." The coach must be "fiercely competitive" and possess "relentless energy and resilience."
Those traits are standard for successful footy coaches over the past 50 years, from Tommy Hafey and Kevin Sheedy, to Damien Hardwick and Alastair Clarkson. Nothing novel there.
But the words that are used under the heading "skills and capabilities" show how AFL football – and modern management culture – have been transformed, and also reflect how the Tigers themselves had shifted to a more holistic outlook after a painful review in the failed 2016 season.
The skills Richmond want aren't simply knowing footy and implementing a game plan. They specify that the next coach should possess "emotional intelligence competencies of self-awareness, self-management, social awareness and empathy."
He must have a "deep understanding and experience of managing wellbeing, psychological safety, person-first approaches to coaching and development of others."
Further, the wish list includes a "growth mindset, personal willingness to learn, adapt and change." Flexibility is held up as one of five "key competencies," – "flexibility and adaptability in own leadership style and thinking style."
And the coach has to champion a multicultural and diverse club. This is number six under key responsibilities: "Actively champion diversity (including gender, Indigenous and multicultural) to ensure people engage and belong."
AFL clubs would not have highlighted terms like "psychological safety" or "self-awareness" in coaching searches even 15 years ago, when it would have been seen as touchy-feely.
In the key responsibilities section, number 4 says the coach should "drive a purpose driven, strengths-based and caring culture that is a source of strength and differentiation."
Again, amid the standard tough coach stuff, there's a counter-balance of a "caring culture" and a suggestion that this culture will set the Tigers apart.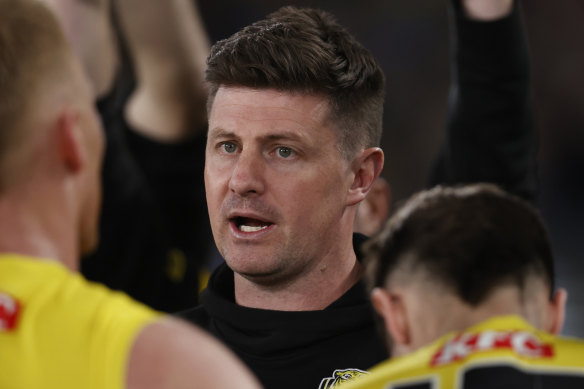 So, in seeking a coach, Richmond are holding up a modern model of leadership. The coach of 2024 will be knowledgeable, resilient and as "fiercely competitive" as winning coaches of yesteryear, but the apparent point of difference – to both the past and others - will be in qualities that we don't usually attach to authoritarian coaches.
There's no room for a "my way or the highway" mindset in the job description. Richmond aren't seeking a command and control coach who dominates the club utterly.
It's arguable that these supposedly "soft" or even feminised traits – care, empathy, self-awareness, collaboration (also specified in the job description), flexibility – are actually intrinsic to modern successful coaches and good managers in any field, but that clubs either didn't make this explicit or didn't recognise them as important.
Richmond, clearly, is a club that has been influenced heavily by women in leadership roles, especially Peggy O'Neal, as the first AFL female club president. The Tigers' current vice-president Henriette Rothschild, who has management consulting pedigree (now with KordaMentha) had a hand in devising the document and was used as an external expert in 2009 when Richmond hired Brendon Gale as CEO.
One question that this document implicitly poses is whether the Tigers are simply following a modern management system – which could apply to nearly any corporate or government leadership role – or if their wish list is based heavily on the experiences gleaned during Hardwick's 13-and-a-half years of struggle and triumph.
A senior Richmond source, speaking on the condition of anonymity because the process is confidential, said the Tigers reckon that the profile of the coach they want has been influenced significantly by what's happened in the Hardwick years, when the club placed great store in players and staff expressing "vulnerability" and telling life stories to each other.
Mindfulness training was also adopted in that crucial period from the failed 2016 into the breakthrough flag of 2017.
It is taken for granted by the Tigers that the senior coach will be "fiercely competitive" – still prioritised as number one of the five "key competencies" – and that he will carry a hard edge and willingness to make and carry difficult calls. They are a tough club in a tough caper. That hasn't changed.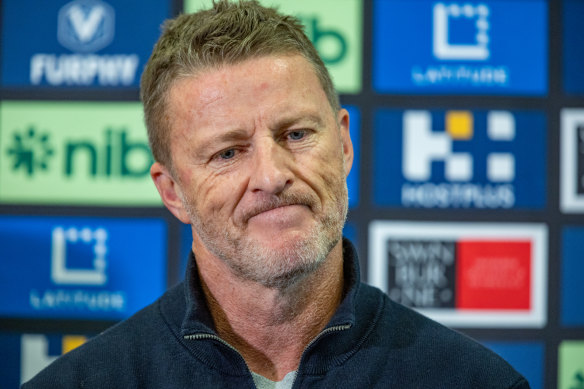 The other key to understanding what Richmond wants in Hardwick's replacement is that the club is anything but broken. Whereas senior coaching jobs often coincide with prolonged failure or dysfunction within the club, the Tigers view themselves as a strong, united club who don't need a radical reinvention. The senior staff driving the appointment – Gale, football bosses Blair Hartley and Tim Livingstone – have been fixtures during Hardwick's reign.
Andrew McQualter, as caretaker, will be a serious candidate, while the likes of Daniel Giansiracusa (Essendon) and Chris Newman have their hands up and Ash Hansen (Carlton), Troy Chaplin (Melbourne), Hayden Skipworth (Collingwood, ex-Essendon) could be in the frame, especially if coaching a team in state leagues is preferred by the Tigers.
Keep up to date with the best AFL coverage in the country. Sign up for the Real Footy newsletter.
Jake Niall
is a Walkley award-winning sports journalist and chief AFL writer for The Age.
Connect via Twitter or email.