Sammi has a full-time job and paid rent for 15 years. No one will rent her a property
Sammi Clarke couldn't eat, couldn't sleep and her hair began falling out.
After being asked to vacate her rental home as winter hit, the single parent of three applied for almost 20 rental properties in Melbourne's outer south-east but was knocked back every time.
At inspections, cars queued out the front. She tried caravan parks, but they were full. The rejections continued despite her full-time job in customer service.
Rents are so high, Clarke says a real estate agent told her that her wage wasn't considered high enough for the properties she was applying for.
"She actually said to me, 'Can you get someone to go guarantor for you?' I'm 47, and I've paid rent for 15 years on my own, why do I need a guarantor?" Clarke says.
As the housing crisis grows, renters doing it tough are close to the brink. When something goes wrong, they're left turning to a stretched safety net of unwilling gatekeepers who are themselves forced to choose between who gets help and who is sent to sleep on the streets.
Workers in the sector have only so many beds, real estate agents receive more applications than they have rental properties, and even the tenants' union can't answer every phone call.
More than 30,000 Victorians were homeless in the 2021 census and since then, rents have soared. Every day, 96 people are turned away from homelessness services across the state.
A major shortage of social and affordable housing, and a lack of funding to help people stay in their homes is being blamed.
In the March quarter, the waiting list for social housing included 58,131 households in Victoria, and tenants face one of the tightest and most expensive rental markets ever, after rent discounts during lockdown years proved short-lived.
Melbourne's rental vacancy rate was 1 per cent in July and regional towns varied from 0.4 per cent to 1.4 per cent, Domain data shows, while rents reached record prices in June.
Renting will be on the agenda next week when national cabinet moves ahead with a plan to strengthen renters' rights, while the Victorian government is considering limiting landlords to one rent increase every two years and potentially capping rent increases.
Clarke, who ran as a candidate with the Freedom Party at last year's state election, shares custody of her sons. A friend offered a spare room, but it's too small for the two sons still living at home, so she is still looking for a long-term solution in the Frankston, Carrum and Langwarrin areas.
"Talking to people on the street outside rental inspections, there's so many people in the same boat," she said. "It can be really demoralising – I've shed a lot of tears."
"[A real estate agent] actually said to me, 'Can you get someone to go guarantor for you?' I'm 47, and I've paid rent for 15 years on my own, why do I need a guarantor?"

Sammi Clarke
She's not the only one. Kim Minne sometimes has a quiet cry after work, even though she loves her job as an entry point worker at Uniting Victoria and Tasmania's homelessness service in the Wimmera region.
She is sometimes forced to turn desperate people away, instead of referring them to housing services or arranging grants so they can pay rent.
Minne knows they will end up sleeping on the streets, in a car, a tent or couch-surfing.
Some 1258 people asked her service for help over the 2021-22 financial year.
"We were able to help 612 and the rest you say, 'You're going on a wait list because we've got nothing at the moment, we'll give you a voucher', and we offer people swags and tents," Minne says.
She also sees men and women over 60 sleeping in their cars.
Workers like Minne often try to refer clients to housing services, but those agencies are also stretched.
In Melbourne's west, Unison Housing chief executive officer James King had to tell his frontline staff who assess people for social and public housing, that they can't help everyone.
"Sometimes staff feel this expectation that they're going to be able to help everyone, and that's quite a dangerous expectation to have because it's unrealistic," King says.
"It adds to the toll of frustration, of disappointment, of just sheer baggage."
Closer to the city, Haven Home Safe acting chief executive officer Vanessa Brotto says her homelessness agency faces a similar problem.
More state government funding is needed, she says, to help rough sleepers, including full-time workers, more motel crisis accommodation.
Funding for services such as crisis accommodation has only been adjusted by inflation since 2009, she says, but the demand has ballooned.
Some emergency relief services, including food relief, are funded by the federal government, but that funding is not provided to all homelessness services.
That means Brotto's colleagues buy food out of their own pocket and cook meals to help families in need.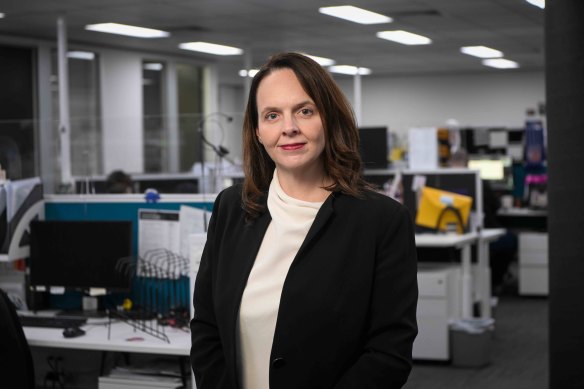 More and more often, Brotto sees school children in their uniforms sitting on the steps outside her office waiting for their parents to finish work, race over and see if they can find emergency accommodation.
"And it just breaks my heart because I know I can't put those kids in a boarding house, and I'm not going to be able to fit a family into a caravan, and I know that we have motels who now can't work with our clients," Brotto says.
"This is 'us'," she adds. "This is people who we might have gone to school with, that we might work with."
While she welcomes the Victorian government's Big Housing Build project, Brotto says the number of new houses won't be enough to make a major improvement.
Haven Home Safe's Georgia Kelly, who works with rough sleepers in Bendigo, has had many conversations with people who can't afford rent.
"A lot of them have found themselves in this position because they may be on a certain pension, like the age pension, and they may have been in a rental for a certain amount of time, and their rent went up, and they couldn't afford it any more," Kelly says.
"Even when they do find that safe place to live, they're still struggling to pay the rent."
Ballarat Bendigo Real Estate associate director David Morrison says property managers are receiving a huge number of applications and see repeat tenants applying.
"It is difficult because there are tenants that won't ever be accepted necessarily because of their [bad] history or their ability to pay rent," Morrison says.
"Often we just genuinely want to find them a place, but they just get beat. It's really tough."
Tenants Victoria chief executive officer Jennifer Beveridge says her staff are inundated with calls and emails from renters who have a notice to vacate, a rent hike or who are in arrears.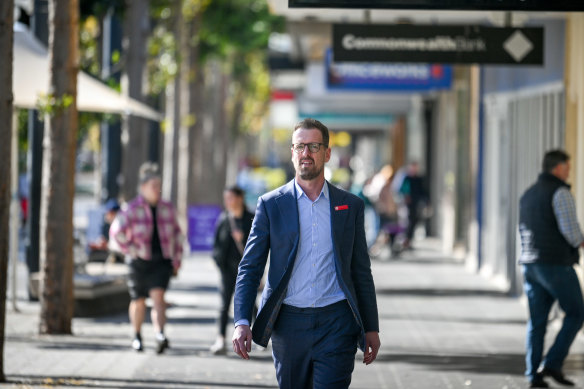 "We help about 10,000 people directly each year and that's about 30 per cent of the people who are trying to contact us," Beveridge says.
Short on cash, Tenants Victoria has had to cut back the days it can operate its helpline.
"Often we say no because we can't help, and there's a burden that sits with our frontline staff to work really hard and get to as many people as they can," Beveridge says.
"But when they are talking to people who are in distress, there are limited ways we can help them."
The Age sent detailed questions to Housing Minister Colin Brooks. In response, a government spokesperson said money had been invested into homelessness programs in this year's state budget, with a $1 billion Regional Housing Fund announced last month.
The Aboriginal Private Rental Assistance Program received extra funding.
"This year's budget invested $134 million to homelessness programs, including delivering a Housing First response with housing and support services for people sleeping rough and experiencing homelessness," the spokesperson said.
"The Andrews Labor government is delivering more than 12,000 new homes and creating more than 40,000 jobs with the $5.3 billion Big Housing Build.
"More than 7600 homes have been completed or are under way, more than 2800 households have either moved in or are getting ready to move into brand new homes.
"We know there's no more important issue anywhere in the state right now than housing – that's why we're working hard on a housing package and will have more to say in the coming weeks."