Schools that Excel northern winners: Bundoora Secondary College and Hume Anglican Grammar
Celebrating Victorian schools that improve their VCE performance over 10 years.
See all 7 stories.
Ikigai, the Japanese concept of finding life's purpose, is an unexpected tool for a Victorian high school.
But for Bundoora Secondary College, the concept is one of the driving forces behind the school's revival and its students' success.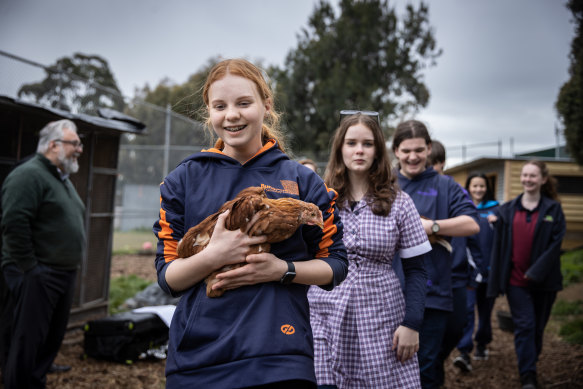 Building on the Templestowe College model of student-led learning, Bundoora places a heavy focus on individuals, defining interests and goals from their first year and electing a mentor teacher who stays with each student until graduation.
It has paid off. Less than 10 years after the school was in danger of closing, Bundoora Secondary College has been awarded The Age's 2023 Schools that Excel government winner for the northern area for its sustained improvement in VCE results.
The annual series celebrates schools that achieve outstanding advancement in their VCE results. The Age has gathered VCE results data going back 10 years for every secondary school in the state and turned it into an easy-to-use dashboard to show how each one fared over the past decade, what its graduates do after finishing, and more.
Bundoora Secondary College's median study score last year reached a 10-year high of 29, six points higher than 2013. The percentage of students with a study score 40 or above also surged to a 10-year high of 4.4.
Principal Anesti Anestis says the results are just a "pleasant byproduct" of the school's resurgence.
"The result isn't what drives us," he says. "Kids finding their passion, their purpose and taking those next steps confidently with a high degree of independence and a high degree of resilience. That's what we're on about."
With just under 400 students, Bundoora Secondary is one of only four public schools in Victoria to use the Empowerment Education model, a consultative approach that lets student choice lead education pathways.
Maths and English are the only compulsory subjects at the school. Other classes have been developed by teachers to combine core curriculum areas into new subjects like 'Are we eating the environment?' and 'How do I turn my ideas into a business?'.
Outside, a new science and sustainability centre, permaculture farm and community garden will be finished by 2025. Students, teachers and community members visit the school on the weekend to care for the food garden, cows, goats, chickens, and reptiles.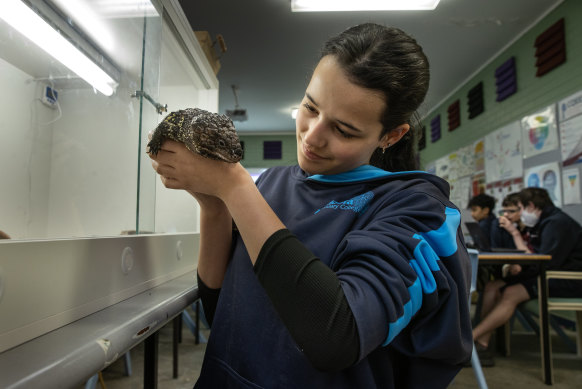 Teachers, too, are encouraged to identify and follow their passions.
Brian Daniells, assistant principal of teaching and learning, came to the school to pursue his interest in agriculture and environmental education. He co-developed the school's working in wilderness course, which covers conservation, zoology and ecology.
Bundoora has received more than $350,000 in grants to further stimulate urban agriculture and environment management studies, by offering VET pathways for all northern Melbourne schools.
"Our school philosophy has shown to be successful now with our results," Anestis says. "People who are engaged and empowered in their learning can learn anything."
Year 11 student William Adcock came to Bundoora in year 9 and says it was "one of the best decisions of my life".
"You get the freedom to choose what you learn from the start," he says. "This school prepares students for their life."
Hume Anglican Grammar has been awarded The Age's 2023 Schools that Excel independent winner for the northern area for its sustained improvement in VCE results.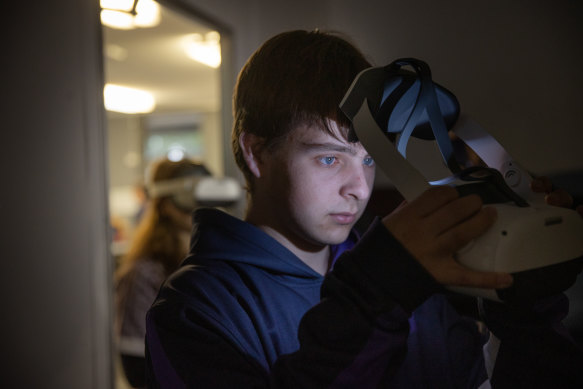 Its median study score last year reached 31 for the second time in 10 years. The percentage of students with a study score 40 or above was its second-highest in 10 years at 7.3 (2020 recorded 9.1).
The school's most giddying numbers, however, are in terms of growth. Hume Grammar is one of the state's fastest-growing schools, increasing from 70 to 2300 students in 16 years and currently adding about 300 students each year.
Principal Bill Sweeney says the school has the highest foundation intake for any non-government school in the state, enrolling more than 250 new students every year. At its current rate, Hume's three campuses should hit their 3600 cap in about six years.
"We make no secret that we are on a growth trajectory," Sweeney says. "We do want to expand if possible, and when possible, because every time we expand that's warmly received by the community."
Sweeney says Hume matches its expansion with capital works, but focuses, too, on its core Anglican values and student wellbeing. The school's motto, Let your colours shine, aims to help each child identify and develop their talents. Parent support is also important, particularly for senior student success.
"Our parents share our values," Sweeney says. "They believe in what we are doing. They are parents who are discerning, they want the very best for their child. The vast majority of our parents have a tertiary qualification ... and they want their child to do likewise."
More than 95 per cent of the VCE cohort go on to university in a typical year, while Sweeney says another 3 per cent do TAFE or other training, and only a tiny percentage take a year off or go into the workforce.
The Morning Edition newsletter is our guide to the day's most important and interesting stories, analysis and insights. Sign up here.