Schools that Excel regional winners: Horsham College and Sacred Heart College Yarrawonga
Celebrating Victorian schools that improve their VCE performance over 10 years.
See all 7 stories.
At Horsham Secondary College in Victoria's Wimmera district, getting the basics right gives the school's 1000 students a strong grounding for a life of learning.
Horsham was a school of dwindling enrolments and high staff turnover when principal Rob Pyers started in 2014. A focus on "positive pathways", giving students more choice and building better relationships with the community has set the college on a new trajectory.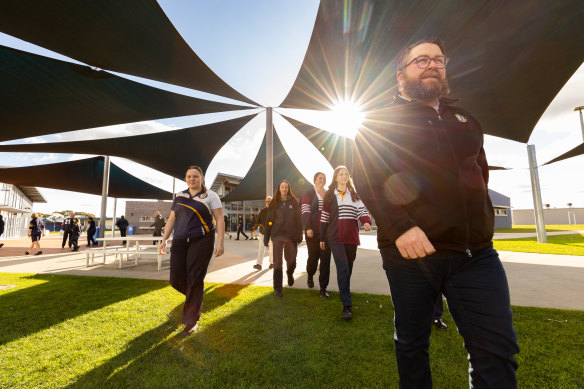 Horsham's median study score last year reached a 10-year high of 32, up from 29 in 2013. The percentage of students with a study score 40 or above leapt to 10.1 (way ahead of 2013's 4.8).
The school has now been awarded The Age's 2023 Schools that Excel government winner for the regional area. The annual series celebrates schools that achieve outstanding advancement in their VCE results. The Age has gathered VCE results data going back 10 years for every secondary school in the state and turned it into an easy-to-use dashboard.
Careers guidance and acceleration are central to the Horsham's newfound success, ensuring students receive mentoring and opportunities as they as ready.
About 60 per cent of Horsham's students follow academic pathways, while 40 per cent head to a vocational future.
Pyers says a modern high school's role is to prepare students to follow their goals, whatever they may be.
"The greatest challenge we have ... as a system is understanding what success looks like, and it is more than just an ATAR," he says. "Success for me is certainly made up of an ATAR, but it's also the trainee, the apprentice. It's the quality of person who actually leaves your school."
Pyers says the school's success comes down to a simple philosophy of doing the basics well. They've capitalised on COVID's enforced homeschooling to build better parent engagement. The school works closely with local businesses to build opportunities for more students to stay local.
For Pyers, the school's pathways data is more important than VCE results as a mark of success. However, a median study score of 32 has sparked some ambition.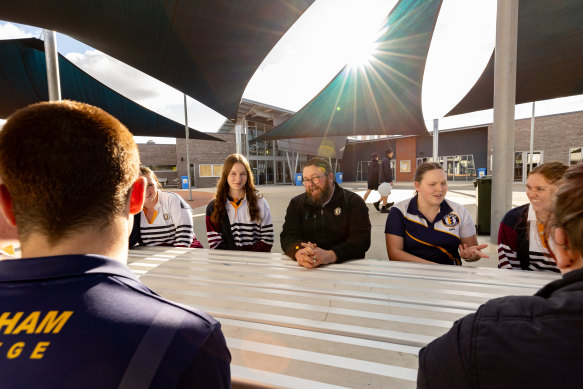 "That was a dream for a school our size, in north-west Victoria, to be able to achieve as a study score," he says. "But 34 is not out of reach.
"Now, for a government school in north-west Victoria to even contemplate that, that's pretty exciting."
In the state's north at Sacred Heart College Yarrawonga, sustained success is vindication for its disciplined approach.
"In education ... you can be distracted by the next shiny thing that comes out," principal Lew Nagle says. "But we've really been dedicated to an evidence-based teaching approach, especially around explicit teaching ... and repeated exposure. Going over a concept from different angles, not just one time."
It's a strategy that has paid off. Just 11 years after expanding to year 12, Sacred Heart Yarrawonga has been awarded The Age's 2023 Schools that Excel non-government winner for the regional area for its sustained improvement in VCE results.
Its median study score last year reached a 10-year high of 30, after a steady decade of 28s and 29s. The percentage of students with a study score 40 or above also surged to a 10-year high of 12.7, miles above 2021's 4.5.
Staff had been given a secret goal to shift the school's median study score to 30, but Nagle says it was an outstanding result after years of COVID disruption.
"It was an amazing effort."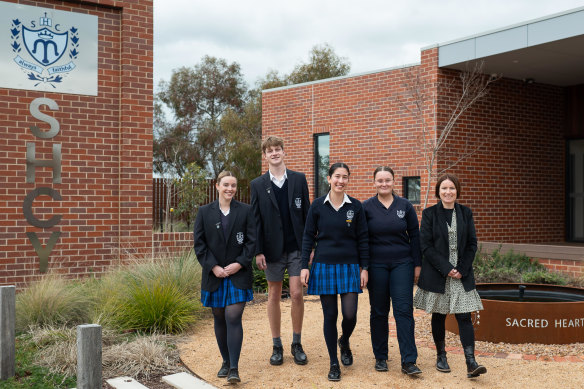 Sacred Heart has a cohort of 25 in Year 12, but is growing fast, with 60 students enrolled for Year 7 in 2024. The college has strong ties to local primary schools and knows many students well before they begin secondary schooling.
It's that tight-knit sense of community that makes Sacred Heart an option instead of larger schools in nearby Shepparton or Wangaratta.
Nagle has been at the school for 20 years, including 10 as principal, and nine as deputy. His own three children have attended the college.
Sacred Heart maintains strong connections with students' families. As Nagle says: "If you've got parental engagement, and you've got kids that want to do well, how easy does it make your job?"
The college celebrates 60 years on its current site this year. It's just opened a new library and administrative centre, and has almost finished a $2.1 million redevelopment of its STEM centre.
The school has invested heavily in technology, which paid off during lockdown, when Sacred Heart students were already well-equipped for homeschooling. It also runs a successful homework club twice a week, when teachers volunteer extra support.
At the beginning of each school year, the school guarantees a "non-negotiable" 12 months' growth, regardless of students' starting point.
"Your potential was not determined by your postcode," Nagle says. "We believe strongly that our kids here can achieve as well as anyone in any larger regional centre or metropolitan Melbourne."
The Morning Edition newsletter is our guide to the day's most important and interesting stories, analysis and insights. Sign up here.