Opinion
Should grandparents be paid for childcare or should Nanna do it for nada?
The best part of being a grandparent is getting to hand them back, right? Well, it doesn't always work that way.
Picture it: you've finally managed to retire, you're settling into a new pace of life and the next few decades are shining ahead of you, gloriously golden. Then your kids start in with the babies.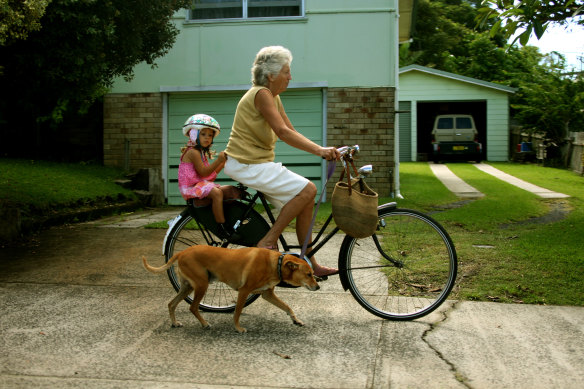 You're thrilled, obviously, practically giddy anticipating all the joy en route for your family. But there's a tiny niggle, a historical whispering about how bloody exhausting babies are. And how obstinate toddlers get. And how relentlessly unpredictable young family life can be.
It will be fine, of course; everyone figures it out and you'll help wherever you're needed. But what if you're needed every day? Or you're expected to care for the grandkids three days a week so that your child can work? Childcare is prohibitively expensive, the housing market is a joke eliciting no laughs, and, of course, you're happy to help, right?
Well, that's the question. Where is the line between "helpful grandparent" and simply "the help"? And if you are putting in long hours, working as an early childhood educator, shouldn't you be paid as one? For my own parents, receiving substantial support from my nan in raising us, the answer was yes.
After a lifetime of care work, professionally as a paediatric nurse, and raising two kids solo, she went in on my parents' first home and lived with us. As was the case with a 1970s divorce, my nan got the kids and little else.
To then expect a woman who had devoted her working life to caring for others to sacrifice time she would otherwise have spent pursuing a blossoming talent for watercolours to care for us, without any compensation, would have been entirely unreasonable.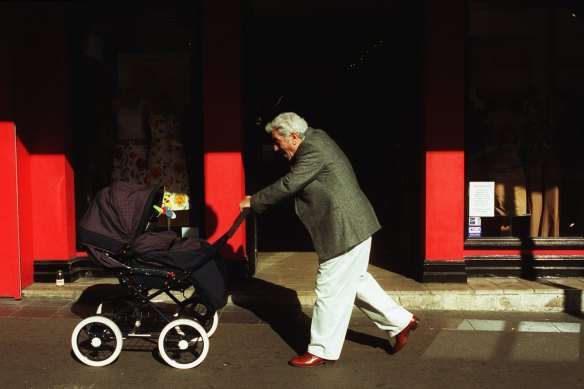 The bottom line is childcare is work and bloody hard work at that. It's also deeply undervalued work in a world that enduringly diminishes care-based professions. As such, it's no secret that the bulk of unpaid care work still falls disproportionately on women.
We say "it takes a village to raise a child", but in cultures that do it well that "village" is made up of women. So to say "it takes a village" in our modern world is really saying that we expect women who have spent their lives as primary caregivers, income earners, and often carers for their own ailing parents, to then gear up, ready to raise the next generation.
Now, family means being there for each other, no questions asked, but when the set-up is such that one party feels used, underappreciated and potentially resentful, the arrangement needs to be examined. I'm not saying this applies across the board, but it's happening more than we might think.
An older family friend often complains that her daughter – a single mum by choice – relies too heavily on her to cover childcare. Caring for her grandchild while juggling her own shift work, our friend laments, "She chose this. I have not."
On the flip side, I have colleagues who grumble when their parents are on holiday, "spending my inheritance", and unable to fulfil their usual childcare duties.
Of course, every situation is different and, as with any decree, caveats abound.
I'm not proposing that the role of grandparent should become a transactional one. Occasional care, special outings, helping when parents are sick, and generally supporting new parents through the early years of child-rearing is a cherished part of grandparenting. What's needed is open and compassionate communication to ensure all parties are actually happy with the arrangements, whatever they may be.
Compensation needn't be as formal as cash for care either. In the case of my nan, it meant paying for her art supplies and classes. It's about acknowledging the value of what's being provided, and an understanding that this is not something kids are owed from their parents.
Parents' obligations go as far as getting us safely through to adulthood. They don't then extend to leaving us a lump sum of cash when they die and putting aside the golden decades of their lives to raise our kids.
What if they're "all cared out" and need a few decades where tiny, vulnerable creatures don't depend on them for survival? Is that allowed? Is that selfish? Well, if it is, so be it.
It's the kind of selfish I'm going to be if my own kids end up multiplying. I will adore my grandkids and be there for support, but I am certainly not raising my brood, caring for my own parents as they age, then working to retirement only to be rewarded with the expectation of raising the next generation.
Hannah Vanderheide is a freelance writer and actor.
The Opinion newsletter is a weekly wrap of views that will challenge, champion and inform your own. Sign up here.