Taylor Sheridan takes time out from the ranch for this revved-up espionage thriller
Special Ops: Lioness ★★★
Paramount+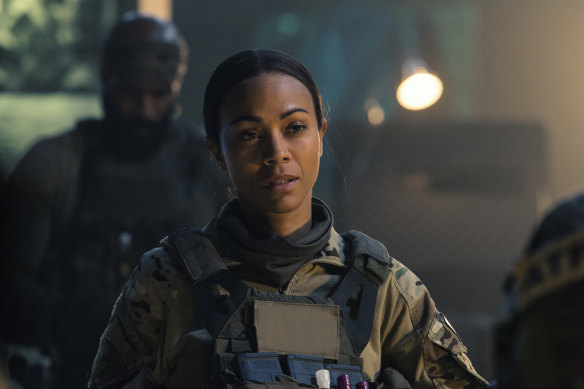 "Cleared hot," Zoe Saldana's CIA agent tells a drone operator awaiting strike orders at the start of this revved-up espionage thriller, and really that's how the show's creator, Taylor Sheridan, likes to operate. The writer has built a television empire via the Dutton ranch – home to Yellowstone and its prequels, 1883 and 1923 – and his sensibility carries over to this war-on-terror drama. Turns out you can take Sheridan out of cowboy country, but you can't take the cowboys out of Sheridan's shows.
Saldana's Joe runs a CIA unit that uses young female operatives to befriend the daughters or girlfriends of their Middle Eastern targets, who then unwittingly provide target locations. In the opening episode this goes disastrously wrong, and Joe laments her loss. She goes back to work, recruits a driven Marine, Cruz (Laysla De Oliveira), and takes an insane number of risks with her untrained covert asset. Having now watched the majority of this season, I'm shocked the rookie spook is still alive.
The show has a veneer of high-tech surveillance and special forces warfare – it's very Zero Dark Flirty – but the storylines and the characters are addicted to action. The 42-minute episodes are finely filleted, but adrenaline overwhelms logic; at one point Joe loans some of her team to a colleague for an unsanctioned operation in Texas (the CIA doesn't operate on American soil) that results in a serious body count. There are reprimands.
Cruz's attempts to butter up Aaliyah (Stephanie Nur), the party girl daughter of an Iraq militia leader aligned with Iran, can't hold Sheridan's focus. That's fine, because the more interesting battles are being fought at Joe's rarely visited family home, where her silver fox husband, surgeon Neil (Dave Annable), is a great hook-up and her 14-year-old daughter, Kate (Hannah Love Lanier) is staging her own rebellion. There are thorny issues here, including race, that the show nods to but doesn't really explore.
Nicole Kidman has to deal with tepid, try-hard dialogue as Kaitlyn, Joe's hard-nosed supervisor – "I'm allergic to my ex-husband," she tells a restaurant waiter – while showing how serving your country inevitably costs you personal happiness. Special Ops: Lioness is equally gung-ho when it comes to terrorist cells and random bar fights, but the bravado is a smoke screen. The cast is expert, the production values exemplary, but I'm still waiting for the pummelling twists to go beyond "mother knows best". Relentless as it is, this series is blowing up the wrong things.
Snoopy Presents: One-of-a-Kind Marcie ★★★½
Apple TV+, Friday
Charles M. Schulz's daily comic strip, Peanuts, ended after 50 years with his retirement in 2000, but the rueful four-panel humour of Snoopy, Charlie Brown and a host of supporting characters continues to proliferate in different mediums. Most recently, Apple TV+ has brought the primary school philosophers to streaming, with a series of animated Snoopy Presents specials that play to both children and adults. One-of-a-Kind Marcie is the best yet.
Directed by Simpsons veteran Raymond S. Persi, this 40-minute episode focuses on the introverted Marcie, a problem-solver whether caddying for friend Peppermint Patty on the golf course, or trying to ensure the school canteen has enough pizza slices for all the students. With his bittersweet observations and quixotic gags Schulz was ahead of the times, so Marcie's struggle to do good while recoiling from the spotlight smartly plays as modern.
With its bucolic lighting and impressionistic background swathes the visual aesthetic is calmly timeless, and the unspoken rules of Peanuts – such as no adult characters – easily endure. Snoopy is mostly buzzing around the margins, adding a Caddyshack vibe to the golf scenes, but this thoughtful, amusing update gives most of the name characters a chance to shine. In other words, Lucy is still a lot.
Zombieverse
Netflix
Netflix's South Korean operation continues to take big swings, but this reality mockumentary, where a group of local B-listers pretend they're taken in by the zombie apocalypse being staged around them, is a miss. The elaborate ruse doesn't stick – the contestants aren't fighting for their lives; camera crews follow them everywhere – and the survival challenges to avoid the undead are drawn out. That said, the production detail is terrific – the actors playing the bloodied, flesh-hungry zombies give the show's best performances.
Billions (season 7)
Stan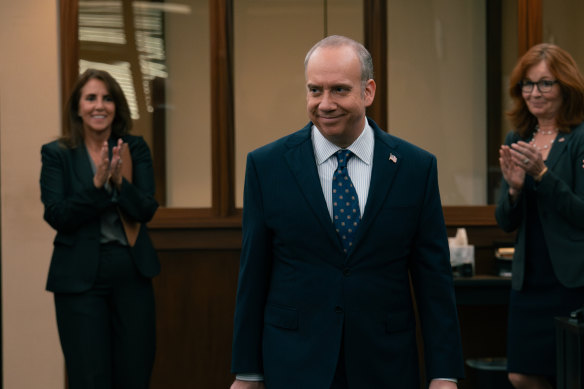 Lost track of Billions after six increasingly Byzantine seasons? Don't worry, the power games and wealth porn of New York's rich and powerful are resetting to a degree for the series' final instalment, essentially remaking the battle between the state's disgraced attorney-general Chuck Rhoades (Paul Giamatti) and hedge fund titan Mike Prince (Corey Stoll) by bringing back the original master of the universe Bobby Axelrod (Damian Lewis), who sat out season six. Scheming along with excellent music references and song selection remain cornerstones, but it makes more sense with Lewis as the sun around which the show revolves.
Meet Me in the Bathroom
Binge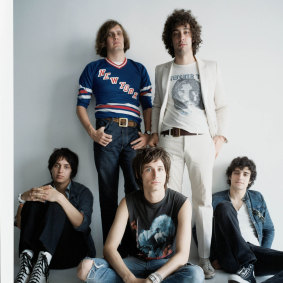 This feature documentary adaptation of Lizzy Goldman's 2017 oral history of New York's burgeoning music scene in the early years of this century will mainly appeal to fans of the relevant bands: the Strokes, Yeah Yeah Yeahs, LCD Soundsystem, Interpol and many more. It's almost impossible to distil the dislocating experience of alternative acts going through a vertical ascent in popularity, and directors Will Lovelace and Dylan Southern are obviously keen to replicate the rock 'n' roll grime of Goldman's best interviews. Still, it's an amusing form of nostalgia and the archival footage hums with breakthrough energy.
Hill Street Blues (seasons 1-7)
Disney+
For the most part, there are two eras of American police procedurals: before Hill Street Blues and after Hill Street Blues. Disney+ has all seven seasons of Steven Bochco and Michael Kozoll's gritty series, which was set at an often chaotic urban police precinct and aired between 1981 and 1987. The show's touchstones are numerous, including the "let's be careful out there" reminder that Sergeant Phil Esterhaus (Michael Conrad) ended every opening roll call with, but it also broke ground in terms of diversity and depiction, while taking the narrative beyond a self-contained weekly structure.
Find out the next TV, streaming series and movies to add to your must-sees. Get The Watchlist delivered every Thursday.