Online furniture retailer Temple & Webster is the latest brand to bear the brunt of slowing spending, posting a 30 per cent drop in full-year net profit.
However, company CEO Mark Coulter said on Tuesday sales had started to pick up in the new financial year as consumers switch to more affordable home goods.
Temple & Webster shares fell almost 13 per cent after it revealed its FY23 net profit after tax had declined by 30.6 per cent to $8.3 million, while revenues slipped 7.2 per cent to $395.5 million. They closed the session at $6.57 and are still ahead by more than 40 per cent year-to-date after a strong run-up since February.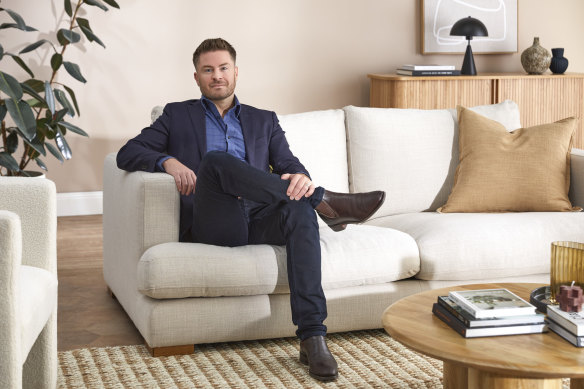 Coulter said while consumers were under pressure, the retailer's Millennial-focused customer base was trading down on purchases, seeking out furniture staples like budget-friendly couches.
"That's our sense – and you can see it in our [demand for our] sofas, for example," he said.
"Furniture and homewares is less discretionary than people think – there is always going to be a need for it. And we are seeing that customers and looking for more value."
Temple & Webster's trading update for the start of the 2024 financial year showed stronger momentum, with the company's revenues up by 16 per cent compared with the same time last year.
Coulter said while trading conditions were tough, the business was sticking with its long-term value proposition and targeting $1 billion in annual sales in the next three to five years.
"I think it is tough out there – people are feeling the pinch, but they'll still need items for the home, and they just look for more value options," he said.
UBS analyst Tim Piper said Temple & Webster's numbers showed a strong sales update, but the company's guidance suggested margins could weaken in the 2024 and 2025 financial years.
Household spending index insights from Commonwealth Bank for July show household goods spending is down by 5.4 per cent over the past 12 months, the weakest performance since COVID-affected months in mid-2021.
"The effects of 400bp of RBA interest rate increases is clearly reflected in a significant overall slowdown in household spending as measured by the CommBank HSI Index," CBA chief economist Stephen Halmarick said.
"We continue to expect household spending to weaken further over the remainder of 2023 and 2024."