Thanks to the Matildas, everyone gets a guernsey
The image of Sam Kerr removing her grass-stained match-day jersey to give to a young admirer in Brisbane was illustrative of the several ways in which the phenomenon of the Matildas' World Cup campaign stands apart from previous instances of Australia uniting behind a sportsperson or team.
Whether or not it occurred to Kerr that the jersey might be worth a fabulous sum to herself, and will probably fetch one for the star-struck fan if she ever decides to sell it, doesn't matter. Kerr gave away the jersey anyway. The moment will always be priceless.
The World Cup, with the Matildas' rousing run at its heart, has catalysed rarely felt unity, but also an opening of hearts and minds on an unprecedented scale that you have to think will change sport in this country forever.
It begins with the prospect of putting one over the world, our national vocation. Arguably, the Matildas have achieved that already, though they won't think so yet. En route, there's the chance to put another over England, Australia's other vocation. There'll be no talk of moral victories this time.
But it's much wider and deeper than that. Anecdotally, men are watching, talking and reading about women's sport as never before. More women than ever are dwelling on women's sport. This has not always been the given you might think. And then there are the kids, untold millions of them. They put a different face on it. The whole aesthetic is different.
It helps no end that this World Cup is in our country. Isolated as we are in our South Pacific lagoon, only one previous men's or women's World Cup has been even in our time zone and therefore in manageable hours of consciousness.
The images that the World Cup is imprinting on all minds are not from a farther hemisphere and the middle of the night, but are in prime time from a stadium down the road. It makes them so much more vivid and so more indelible. It won't ever be quite like that again.
Crucially, this proximity puts faces and identities to what were previously at best names to the public at large. This is the eternal conundrum for the Matildas and Socceroos. They are ours, but because of the economics of sport are rarely seen here, individually or as teams. It means that they are much loved as ideas, but amorphously. No more; the Matildas have seen to that. And right now, their freshness is an asset.
Media coverage has been wall-to-wall. If we're honest, it has sometimes tipped over into the jingoistic, but that's forgivable on the basis that it reflects the national psyche right now.
This is a rising tide that lifts all boats. It's women's soccer now, and other women's sports might momentarily feel swamped, but ultimately all will benefit from the upswell. If the Matildas win the whole lot, we might even begin to talk of a triple crown: soccer, netball and cricket world champions.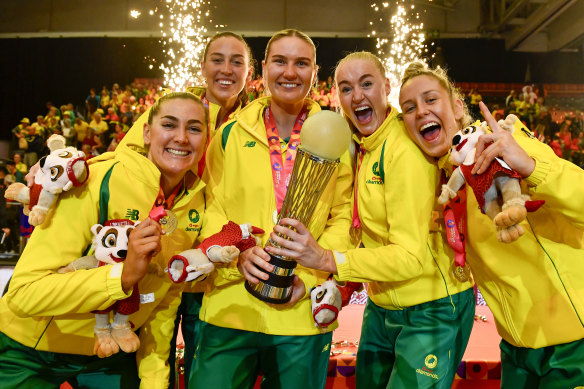 Appreciation of women's sport in its own right has reached a new threshold. People are alive to it in a way the AFL with all its power and reach and ambition cannot engender.
Crusty casuals have had to admit that the standard of play has been a pleasant surprise, and there is no sport quite like soccer for suspense and drama.
Other sports are embracing the Matildas and their wondrous World Cup mission, on Saturday pausing or delaying their own games so that fans could concentrate on another. This was new ground.
The cosying up might have been as strategic as it was fraternal, for who would want to be seen turning their back now? But it led to previously unimaginable scenes of fans of one sport at one stadium euphorically rejoicing in happenings elsewhere.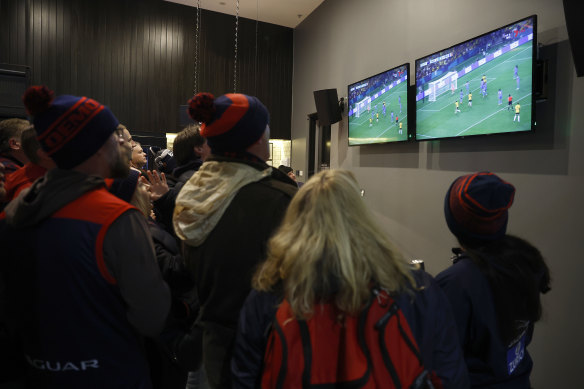 Across the country, there is near unanimity. Yes, there are soccer supremacists on one hand who maintain that there is only one sport and object to all these ignorant bandwagoners, and curmudgeons on the other who cannot understand why anyone bothers with women's sport at all.
But their grumpiness is at the level of a barely audible growl and in any case is easily dismissed. No one is making anyone watch. They are anyway, in mind-boggling numbers. That's the very point.
It leads to the next. Previously received wisdom was that people don't and won't watch women's sport even at an exalted level. Because of this, corporate backers and broadcasters have kept their distance. On the eve of this World Cup, FIFA president Gianni Infantino threatened a black-out in Europe, so risible were the sums on offer for telecast rights.
Locally, the tournament has been partly secreted behind a paywall. Retrospectively, that looks like a mistake. But in the longer term, it is only logical to think that flowing from this World Cup, there will be more exposure and more money for women's soccer henceforth.
This is vital. Calls for governments to pour in millions are understandable, but naive. It is corporate and broadcast money, not government, that funds big-time sports in Australia and sustains their popularity (but barely trickles down to grassroots). Their doors now will be ajar.
The bottom line is that women's sport, and specifically women's soccer, has established a new high watermark in this country. It will recede when the World Cup is over and the Matildas disperse, but it's improbable that it will return to previous levels. The Australian sports landscape is complex – the size of the pond and the fish in it are different depending on where you look – and the exact shape of the new landscape will take time to emerge.
But one thing is clear. We have more room in our hearts and our appetites than we might have thought. Neither the so-called code wars nor the jostling between men's and women's sports have to be zero-sum.
Until now, cricket has been most successful in insinuating the women's game into somewhere near the sport's forefront. Far from robbing the men's game or crowding out other sports, women's cricket has added to the quantum.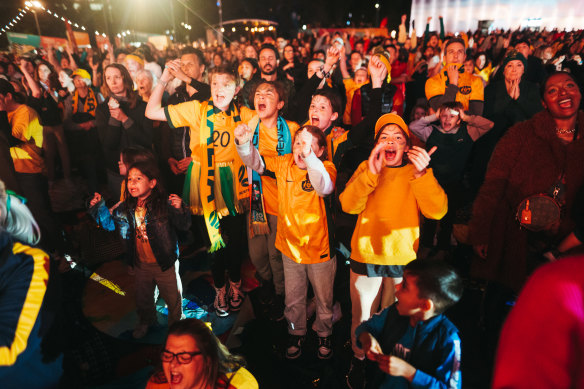 If Australia is the sporting nation it prides itself on, it will know that there are enough players to go round and enough fans – following more than one gender or team or sport at a time – and enough windows in the calendar and enough esprit de corps between us to rejoice in them all.
Like Kerr to that young fan, the Matildas have given us a gift.