The O.C. set a benchmark for teen love triangles; a spate of new shows is upping the ante
"Speaking from a recent personal experience, the triangle is not a friendly shape, OK?" Seth Cohen (Adam Brody) said to his adopted brother Ryan Atwood (Ben McKenzie), 20 years ago.
The teenagers are hanging out in the pool house in which Ryan lives, discussing their complicated romantic troubles. "It's pointy, it's got sharp edges. Triangles hurt people."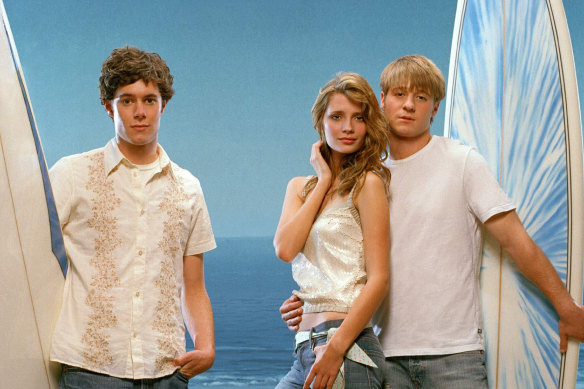 In 2003, The O.C. premiered a first season so packed with love triangles it could have been mistaken for a packet of Doritos.
The kids were involved in love triangles. The parents were involved in love triangles. As soon as one love triangle was resolved, another would pop up in its place – an old flame would return to town, a charming but unhinged stalker would make themselves known in a psychiatrist's office, a teen would hook up with their ex-girlfriend's mother, but the mother is already dating another teen's grandfather. You know the drill. Off the top of my head, I can think of at least eight love triangles in the first season alone.
The love triangle, an absolute classic teen romance trope, has always been irresistible viewing to me. It doesn't seem to matter how far-fetched the storyline is or how obvious the "right" choice may be. If there are three people mired in romantic crisis, I am watching. I might blame Joey, Dawson and Pacey, but honestly, who knows what caused it. All I know is that for a show called Dawson's Creek, I sure wasn't rooting for Dawson to win.
The latest show to scratch this narrative itch is Prime's The Summer I Turned Pretty, which is currently in its second season. Based on a trilogy of novels by American YA author Jenny Han, the story follows Belly (Lola Tung), a teenager whose year revolves around her family's annual summer trip to their family friend's beach house.
She has been in love with the floppy-haired eldest son of that family, Conrad (Christopher Briney), for her whole life – will this be the summer that he notices her? Unfortunately, Conrad is more distracted and colder towards Belly than he ever has been before … which is when she starts to notice his more charming brother, curly-haired Jeremiah (Gavin Casalegno). The rest of the season has Belly fall in and out of love with two beautiful boys she has known her whole life, while she lounges in beds of American beachgrass, a lush Taylor Swift song playing in the background.
Season two tackles serious subject matter – grief, trauma, feeling the people close to you slip away. But the hum of that love triangle still powers the show, a steady heartbeat that provides the backing track for everything that happens around it. While to me it seems like there is an obvious choice for Belly (Jeremiah! Of course! Conrad is too tortured!) the reason that The Summer I Turned Pretty works so well is that there is a solid case for either boy. If Belly focuses on Conrad, is she just setting herself up for misery? If she chooses Jeremiah, is she only doing so because she can't have his brother? And if she messes both of these boys around, will their families ever be able to holiday together the same way again?
It's not the only show delivering delicious love triangle goodness at the moment. Mindy Kaling's beloved Netflix comedy Never Have I Ever has 16-year-old Devi (Maitreyi Ramakrishnan) flit between her dreamy crush Paxton (Darren Barnet) and her academic rival Ben (Jaren Lewison), which is funny, frustrating and full of mistakes (another great trope: enemies to lovers). Netflix's revival of Heartbreak High was also chock full of pining, unrequited love and complicated entanglements – so many, in fact, that the show literally starts with an "incest map" drawn on the wall at school to keep track of who has hooked up with who. I would be lying if I said we didn't make a similar map at my own school.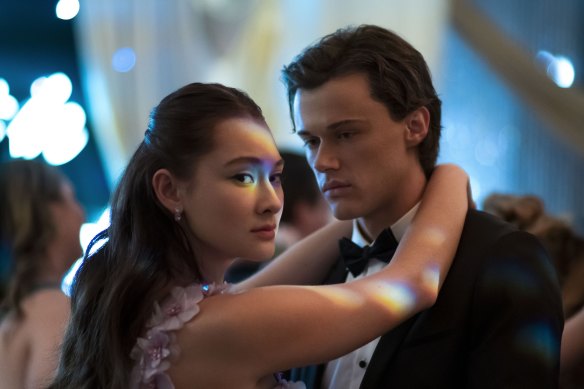 Like (not-so) bad boy Ryan arriving at Newport Beach in The O.C., the arrival of a mysterious outsider is teen TV mainstay. Sometimes these characters don't even have to be from out of town – you can feel like you come from another world even if you go to the same school. When Sex Education (which returns later this year) begins, Otis (Asa Butterfield) and Maeve (Emma Mackey) are total strangers to each other.
He is used to slipping under the radar, she is a formerly popular student who is now an outcast. When they start running a sex advice business at school, their worlds converge with electrifying consequences. It's a convincing will-they-or-won't-they scenario that doesn't feel too drawn out. Netflix's Heartstopper is similar in that way, wasting no time in doing away with the clandestine relationship between Charlie (Joe Locke) and Ben (Sebastian Croft) once it's revealed Ben has a girlfriend. When Nick (Kit Connor) enters the picture, that love triangle is redundant. And as for will-they-or-won't-they, very quickly, it feels like when it comes to Charlie and Nick, they definitely will.
So how do you keep these well-worn tropes fresh? Basically, learn from The O.C.'s mistakes. The first season of the show – which was a mind-melting 27 episodes long – was hilarious, shocking and deeply addictive. It also burned through love interests at the speed of light and had a bad habit of sending its antagonists away (back to Pittsburgh, to live in Portland with their recently outed father, to a mental health facility, and so on) before they had really exhausted those characters' narrative potential. It took the crackle and pop out of an electric cast of characters. Seth Cohen may have thought that triangles had the potential to hurt people, but they sure made for great viewing.
Find out the next TV, streaming series and movies to add to your must-sees. Get The Watchlist delivered every Thursday.