When you think about chamber music, electric guitar isn't the first thing to come to mind.
Yet, it's one of the highlights of the Australian Chamber Orchestra's 2024 season, which sees award-winning Scottish guitarist Sean Shibe, just 31 years old, tour Australia for the first time.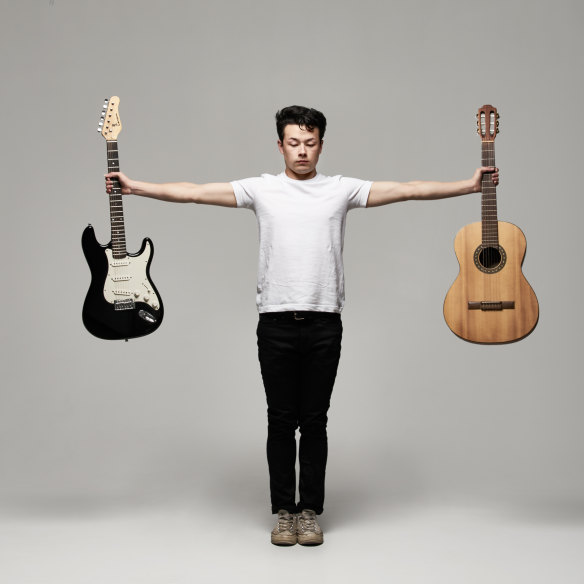 "I feel really uncomfortable talking about 'classical music' because it means nothing these days," ACO artistic director Richard Tognetti says. "It encompasses certain types of chamber music and orchestral music, but then there are people who write so-called classical music and they're not classical musicians."
Instead, he says, as music and music education has evolved, new generations of performers like Shibe don't feel bound by the delineations between classical and popular styles. "It's taken a couple of generations," he says. "Sean has obviously grown up equally with electric guitar and classical guitar. It's a coming of age [for chamber music]."
The inclusion of an artist like Shibe in the season can be perceived as a way to invite new audiences – ones who might not feel comfortable in concert halls – to see the ACO play.
Tognetti admits he too has felt uncomfortable in those spaces – and he's a classically trained violinist. But he also can feel out of place in popular music venues.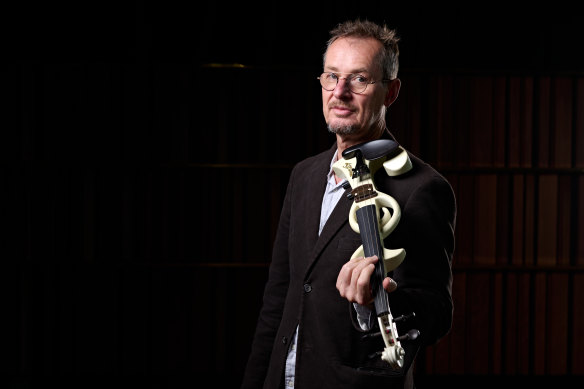 He recalls going to see Jeff Buckley with a mutual friend in Sydney, in 1997, just months before the legendary singer died: "People were talking and I wished that it was more like a classical concert and that people would shut the hell up and listen to Jeff Buckley sing."
Now, Tognetti is more at ease with the blending of classical and popular music. Earlier this year, the ACO performed with Jimmy Barnes and William Barton at the Sydney Opera House. Someone screamed, "Love you, Jimmy", during the set as Tognetti was conducting the orchestra.
"I really enjoyed it because it was funny and brought Jimmy's audience into the Opera House, but he [Barnes] was really pissed off because he was just about to sing this beautiful Randy Newman song and he wanted to enjoy the almost sacred silence of a classical music concert," Tognetti says, with a chuckle.
Shibe and his electric guitar are not the only drawcards for potential new audiences: the season features six other national tours, including a collaboration with Sydney Dance Company; and a live concert of the orchestra's ARIA-nominated score for the documentary River.
The orchestra last worked with Sydney Dance Company in 2012. Now that both companies operate out of the arts precinct at Sydney's Pier 2/3, it seemed like a perfect time to reconnect.
Tognetti thinks the show, Silence & Rapture, will entice new audiences to learn about classical music: "We're accessing an audience who wouldn't normally turn up to a classical music concert, but we're going to be giving them a good diet of J.S. Bach, the greatest composer who ever lived, and Arvo Part, the godfather of meditative minimalism."
The River concert, meanwhile, will invite people to listen to artists from Bach to Radiohead's Jonny Greenwood, and Kalkadunga didgeridoo virtuoso William Barton, who will perform with the orchestra. "With William's wonderful voice and inspiring improvisatory style, you get this sense of flow," says Tognetti. "It's not like we've just dammed every river, in both senses of the word. It finishes with a sense of renewal."
While there is a sense of renewal throughout the season, the orchestra still faces major challenges. One is shared with much of the performing arts industry: a pandemic-induced skills shortage, of both artists and technical staff. While industry bodies had advocated for a targeted skills package for arts workers, it was not part of this year's National Cultural Policy.
"I know so many people who gave up their career, and we should talk about that," Tognetti says. "Anyone who gives up pursuing an artistic career, it's a loss for us ... We need to do something about it, and encourage people to be artists."
The Booklist is a weekly newsletter for book lovers from books editor Jason Steger. Get it delivered every Friday.