'Very hurtful': Here's why you can't buy Mackenzie Arnold's jersey - yet
Goalkeeper Mackenzie Arnold is still coming to terms with what it means to be an overnight Australian sensation. Memes are comparing her to a brick wall. Others have dubbed her the new federal minister for defence. There's even a street in Melbourne that has been unofficially named after her. She's enjoying it while she can.
"It's probably the first time I've received attention like that - but at the same time, I just tend to block it out because I know if I play like shit tomorrow, it could be a whole different attention on me," Arnold said.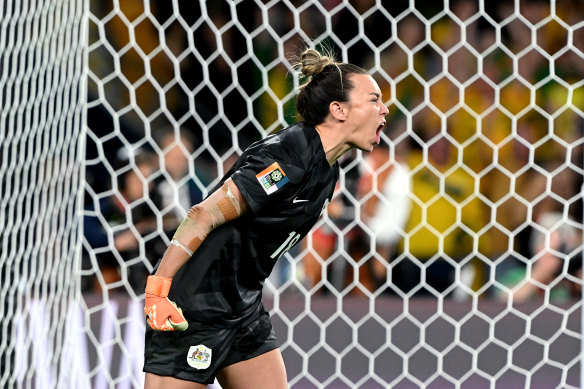 "The good comes with the bad, so I'm just trying to take it in my stride."
And yet there's something missing; something that wouldn't be if any of her teammates had become an instant cult hero like her.
You'll find gold shirts with "Kerr 20" on them on almost every corner. But there are no black shirts with Arnold's now-famous number 18. You won't find them anywhere, and money can't buy them.
That's because Nike doesn't sell them.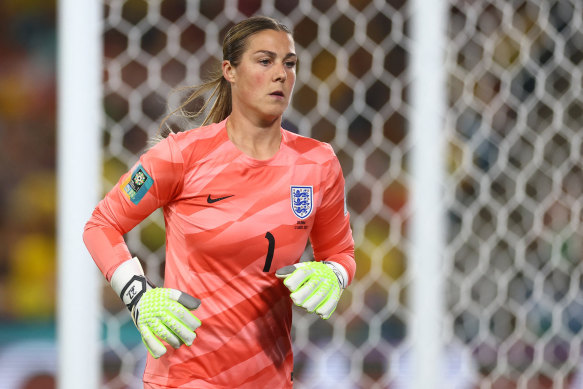 Arnold and Mary Earps, her English counterpart, are rivals at club level. On Wednesday night for the semi-final, they'll be mortal enemies. But it's here they've found common ground.
"Obviously, it would be really cool to see kids – or anyone really – with the goalkeeper jersey on, especially seeing how well goalkeepers have done throughout this whole tournament," Arnold said.
"In terms of why they don't sell them, I'm not too sure."
Nike, the apparel sponsor of both the Australian and English teams, chose not to produce replica goalkeeper jerseys during the Women's World Cup. They can't just start doing it now; they take months to make.
But a pre-World Cup blast from Earps, who plays for Manchester United in the FA Women's Super League, has forced them into a rethink for future tournaments.
Earps said last month that it was "hugely disappointing and very hurtful" that Nike was hawking outfielder jerseys but offered nothing for those who idolise goalkeepers or aspire to be one themselves. She said she even offered to pay for the production of the shirts herself.
"It is the young kids I am most concerned about," she said.
"They are going to say, 'Mum, Dad, can I have a Mary Earps shirt?' and they say, 'I can't, but I can get you an Alessia Russo 23 or a Rachel Daly 9.'
"What you are saying is that goalkeeping isn't important, but you can be a striker if you want."
A Nike spokesperson said: "We hear and understand the desire for a retail version of goalkeeper jerseys and this is something we will certainly take into consideration for future tournaments, in partnership with FIFA and the federations. The fact that there's a conversation on this topic is testament to the continued passion and energy around the women's game, and we believe that's encouraging."