Voters spurn idea of early poll over housing deadlock
Voters are split on whether the federal stoush over housing policy is important enough to trigger a double-dissolution election, but a clear majority has rejected the idea of going to the polls before 2025 even if the deadlock continues.
An exclusive survey shows that 54 per cent of voters want Prime Minister Anthony Albanese to serve a full term and only 20 per cent support an early election next year, despite the fight over the government's $10 billion housing fund that is stalled in the Senate.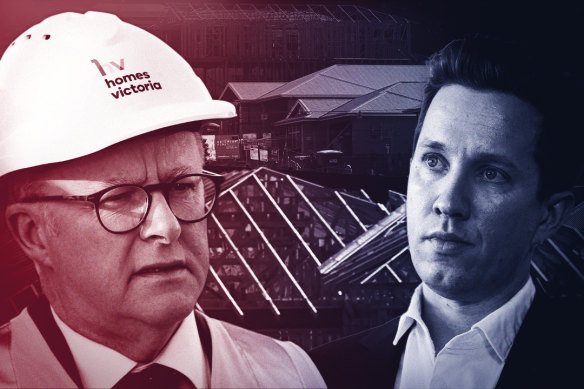 While urging the Greens to vote for the housing bill when it is put to parliament again, Albanese is also seeking a deal on housing with premiers and chief ministers at a national cabinet meeting in Brisbane on Wednesday.
The government is aiming for a set of national principles on renters' rights without banning rent hikes, while states and territories are also expected to commit to planning and zoning changes they say could speed up approvals as the nation faces a shortfall of new homes over the next four years.
Labor is holding out against the Greens' demands to modify the $10 billion housing package by spending more on social housing and getting the states and territories to impose a national rent freeze.
The Greens sided with the Coalition to veto the housing bill in June and Albanese has vowed to put the plan to the Senate a second time, setting up a potential trigger for a double-dissolution election.
Only 33 per cent of voters say the housing issue is important enough to justify a double-dissolution election, while 35 per cent think it is not that important and 32 per cent are undecided.
The exclusive findings from the Resolve Political Monitor are based on a survey of 1603 eligible voters from Wednesday to Sunday, a period when Albanese expressed confidence in a deal at national cabinet and the Greens repeated their calls for more spending.
While 44 per cent of Greens voters said the housing policy was important enough for a double-dissolution election, only 36 per cent of Labor voters and 31 per cent of Coalition voters agreed.
The question was: "Labor has said it will not negotiate on this housing policy and will instead put it to a vote. If the Coalition and Greens vote against it again, it would form a double-dissolution trigger, which means the Labor government could use it to call a special early election for both houses of parliament. Do you think this housing policy is important enough a reason to call a special early election of both houses of parliament?"
Greens housing spokesman Max Chandler-Mather has mobilised volunteers in door-knocking campaigns to win over the community, while Albanese has accused him of seeking political gain when he should vote for the $10 billion fund, which would help pay for 30,000 homes over five years.
Chandler-Mather wrote in June that "this parliamentary conflict helps create the space for a broader campaign in civil society" but the latest Resolve survey does not show a gain for the Greens.
Albanese said on Tuesday he was confident of a deal with premiers and chief ministers on renters' rights as well as changing rules to boost housing supply, but he rejected a rent freeze.
"Renters need more rights, but it can't be done in a way that actually dampens housing supply," he said at a social housing project alongside Victorian Premier Daniel Andrews.
"The Greens political party can't say they want more social housing and then vote against it."
Chandler-Mather described the national cabinet agenda as "unambitious" when figures from the Parliamentary Library suggested renters would pay $4.9 billion more this financial year without a nationwide rent freeze.
"Without caps on rent increases, national cabinet will continue to allow no-grounds evictions every 12 months through massive annual rent increases," the Greens MP said.
When voters were asked which party was best at managing housing, 30 per cent named Labor, 24 per cent named the Coalition and 16 per cent named others. The question focused on the two major parties and did not name the Greens.
The survey found the Greens' primary vote was unchanged at 11 per cent in August, after ranging from 10 to 13 per cent in the Resolve Political Monitor over the past year.
Cut through the noise of federal politics with news, views and expert analysis. Subscribers can sign up to our weekly Inside Politics newsletter here.
David Crowe
is chief political correspondent for The Sydney Morning Herald and The Age.
Connect via Twitter or email.