'We have tried everything': Plane breakdown forces German foreign minister to cancel Australia trip
London: German Foreign Minister Annalena Baerbock has cancelled her trip to Australia after a breakdown of her ageing plane, in a major embarrassment for Europe's biggest economy.
Baerbock, from the Greens Party, would have been the first German foreign minister to visit Australia since 2011.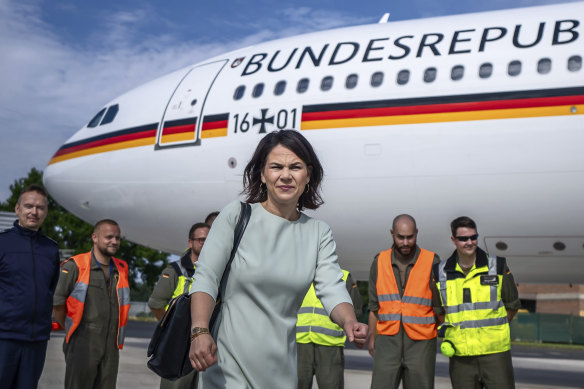 Baerbock was due to meet Foreign Minister Penny Wong, attend the blockbuster Matildas vs Lionesses clash in Sydney, speak at the Lowy Institute and address the media.
Her trip had already been delayed on Monday due to a technical fault with the German government plane that grounded Baerbock and her travelling entourage in Abu Dhabi.
The German embassy in Australia insisted that the minister was en route and would arrive in Sydney on Tuesday evening. But around that time, Baerbock conceded defeat.
"We have tried everything: unfortunately it is logistically impossible to continue my Indo-Pacific trip without the defective plane," she wrote on X, the social media site formerly known as Twitter.
"This is more than annoying. There are few countries that are so geographically far away and at the same time so close to us as Australia and New Zealand.
"Although both countries are literally on the other side of the world from our perspective, freedom and democracy are part of our common DNA."
She said she had wanted to deepen Germany and Australia's collaborations in support of Ukraine, dealing with China and reducing their trade dependencies during her visit.
"Embarrassing, embarrassing," wrote German journalist Patrick Deikmann, who was travelling with the minister.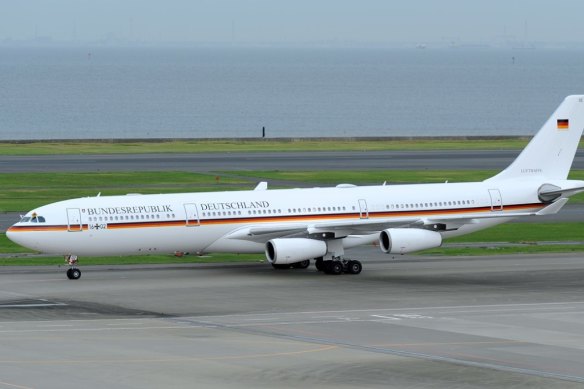 He said the plane had unsuccessfully attempted to take off from Abu Dhabi three times before the trip was canned.
The Wall Street Journal's Bojan Pancevski said the trip was designed to showcase Berlin's major policy shift in terms of containing China and engagement in the Indo-Pacific.
"It was planned for nearly a year," he said.
"It was designed to demonstrate a new resolve. All of that foiled by a faulty plane."
Berlin-based Thorsten Benner from the Global Public Policy Institute was also in the travelling party.
"All those who experienced the German FM during the trip got a clear message: this was a trip that was very important for her and close to her heart," he said.
"To say 'thank you' to Australia and New Zealand for their support for Ukraine, and to signal Germany's commitment to peace and stability in the Indo-Pacific, and to cooperate with Australia and also Pacific Island states on key issues such as dealing with China, critical resources, climate and the energy transition.
"Baerbock tried everything to make the trip happen ... but the stars weren't aligned in the end.
"However embarrassing the disaster with the government plane is for Germany, it will not change Baerbock's personal and her government's deepening cooperation with the Indo-Pacific region, and Australia in particular."
Baerbock was flying on an A340 that is more than 20 years old, taken over from Deutsche Lufthansa more than a decade ago and refurbished for VIP use.
It was the same aircraft that caused embarrassment for Germany in 2018 when former chancellor Angela Merkel was forced back to Cologne, and delayed from arriving on time for the G20 in Buenos Aires.
In 2019, former defence minister and current EU Commission President Ursula von der Leyen ordered a trio of A350s following a spate of incidents like the one involving Merkel that left German government figures stranded and embarrassed.
The Germans have two A350s in service. It was not clear why Baerbock was assigned an older plane for the long-haul trip.
The country's Air Force, the Luftwaffe, said it would be immediately retiring the two A340s.
"The A350s provide the Air Force with robust and modern aircraft for long-haul operations," it said.
"We will take the two A340s out of service as soon as possible, ie in the coming weeks ahead of schedule.
"The two Airbus A340s were originally scheduled to be retired in September 2023 and at the end of 2024."
Department of Foreign Affairs and Trade spokesperson said: "Germany is an important strategic partner and close friend of Australia, and while we share Minister Baerbock's disappointment that she will not be able to visit this week, we look forward to welcoming her to Australia in the future."
One Scotland-based German academic warned against reading too deeply into Baerbock's travel difficulties.
Professor for Contemporary European History at the University of Stirling Holger Nehring said Germany's reputation would ultimately be determined by its policy action, rather than bad luck.
"Some might be tempted to read symbolic importance into the extremely bad luck Foreign Minister Baerbock experienced with her flights to Australia," Nehring told this masthead.
"But I am not sure this matters much for Germany's reputation: The important issue here will be how Germany's China strategy develops in practice – and a cancelled visit doesn't change that."