'They couldn't see us': Rescue plane flew over lost Australians five times
Updated
first published at
Nias, Indonesia: It is a scene straight out of the movies, except without the guarantee of a happy ending.
Stranded on surfboards in the ocean west of Indonesian Sumatra, four Australian tourists and an Indonesian crew saw a rescue plane flying above them five times during the 36 hours they were missing.
Frantically, they waved everything they could at the aircraft – their arms, their life jackets, even their surfboards – but on each occasion, excruciatingly, the plane moved away and out of sight again.
"They were flying too high [and] they didn't notice us in the water," said resort manager Junardi Akhmad, who had been escorting the Australians and was also left lost at sea when the wooden longboat they were in struck a storm on Sunday and began to take on water.
"We used our life jackets, and we use the surfboards to try to get them to see us, but they couldn't."
Australians Elliot Foote and his partner Steph Weisse, and their friends Jordan Short and Will Teagle were eventually found by a rescue vessel in the remote Banyak Islands on Tuesday. Akhmad and the Indonesian boat captain Mohammad Iqbal were found with them.
Fifan Marongo, the third Indonesian crew member, remained missing on Wednesday and an operation to locate him widened as rescuers scoured the Sumatran coastline.
Speaking in a video filmed by one of their friends, Foote and Weisse said their thoughts were with the family and friends of Marongo, who is in his early 20s, and recounted how they approached their extraordinary ordeal.
"There were some moments out there where we were all quite nervous and didn't quite know what the outcome was going to be. But we just banded together," Foote said. "I couldn't have been happier having these three with me.
"They're all so strong and every single moment they just knew what to do. We just kind of took charge and followed each other. There were no arguments ever. We were just strong as a unit."
Weisse, 31, also offered thanks to those involved in saving their lives.
"It's insane the effort that went out," she said. "We feel so blessed and so loved. I'm beyond words right now. What we went through and experienced was so intense. But we were so proud of ourselves, how we just didn't give up until the last moment."
As they recuperated at the surf retreat they had booked on Pinang Island, with eight other friends to celebrate Foote's 30th birthday, more details of their misadventure and the plight of Marongo emerged.
In an interview with this masthead, Akhmad, 36, said the boat had been hit by waves of at least four metres and when water began to leak in, they grabbed surfboards and put life jackets on and leapt into the water.
"We floated that [first] night together. It was raining, I didn't have water with me, so I used my shirt and hat to capture the rain," he said. "We hoped when the weather calmed down, we could hop back inside and take the water out."
But when morning came on Monday, the boat was gone, so they began to paddle west towards Haloban, which by the position of the sun they estimated would be the closest island. By then Marongo was tiring. The group last saw him at about 11am that day.
"He was on one of the surf bags [with several boards in it], so it was like a mini raft," said Akhmad after being reunited with his wife, Nazariah, and their three-year-old daughter, Sunrise Aprilia Khadijah. "I told him to just rest and [that he] did not need to paddle with the rest of us. [I told him] just let the current take him [east] ... we will continue to paddle, and we will look for him once we get help.
"He said 'I am hungry, I am tired'. That was the last thing he said before he drifted away. I caught small crabs and asked him to eat them, but he refused to eat them. We all did our best. The foreigners share food and water with Fifan, we gave him extra life jackets. I tied the extra life jacket to his legs to improve his chances to survive."
The capsized boat was spotted by a privately chartered plane on Tuesday.
Akhmad said the weather had been fine when they set out from North Nias for the three-hour journey to Pinang with a second, larger boat on which the other eight Australians in the tour party were on board.
When the storm arrived, they pressed on while the bigger vessel took shelter behind another island. "We should've done the same," he said. "The captain should've decided to wait for the weather out [near the island of] Sarang Alu too."
In another video on social media, Foote described the moment waves slammed into the wooden boat on Sunday night.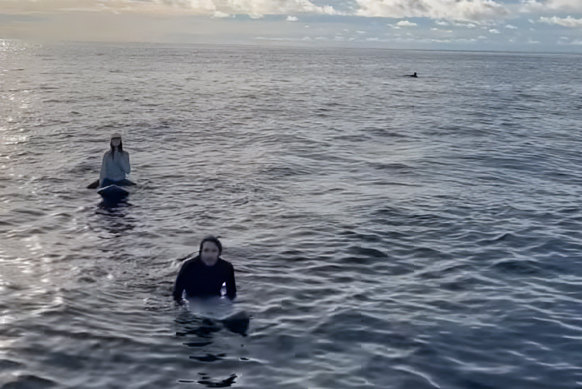 "When the first one came in, Jordie's like 'all right guys this could be serious'," he said.
"I was like 'all right sweet, grab me that, grab me something warm, grab me my knife, grab me this'. We all started grabbing shit."
As the boat began to fill with water, Foote told them: "Everybody get the f--- out now".
"I jumped out, grabbed Steph, pulled her out. She had a life jacket," he said.
"Then Will dived out, Jordie ran to the front of the boat. The boat started going like this (tilting) and Jordie's reaching for board bags. I'm going 'get the board bags, get the board bags'.
"Me and Will climbed back up onto the front, and we're all ripping board bags out, as many as we could."
While there are grave fears for Marongo, Tonggor Gultom, an official in Nias with Basarnas, the Indonesian National Search and Rescue Agency, said they continued to hold out hope of finding him alive.
"Obviously, we hope he is safe, maybe stranded in one of the islands," he said.
"We predict that he is washed to the western side of Sumatra, probably the waters of Aceh Singkil and Sibolga, and we are focusing our search operations there today."
Get a note direct from our foreign correspondents on what's making headlines around the world. Sign up for the weekly What in the World newsletter here.
Karuni Rompies
is assistant Indonesia correspondent for The Sydney Morning Herald and The Age
Connect via Twitter.